Edinburgh Workshop Review
Posted on 15th October, 2019
Edinburgh is an inspirational city and has a rich history of stimulating creative minds towards their best work. Rabbi Burns, Robert Louis Stevenson, Sir Walter Scott and more recently J.K Rowling and Ian Rankin have drawn inspiration from the cobbled streets of Auld Reekie. With this in mind, we were eagerly anticipating 2 days of giving our complete attention and focus to productive photography.
This is exactly how a workshop should be undertaken. It is a chance to remove yourself from the daily grind and to completely immerse your senses into the photographic process. It is in this way that we can truly develop into better, more alert, photographers.
We began our journey with an early train from Darlington, passing along the rugged Northumberland coastline and across the border before heading west along the Firth of Forth to our destination. For added inspiration, we buried ourselves into Alexander McCall Smiths "A Work Of Beauty", which is his personal love letter to Edinburgh. "I love this city, and always shall. I write about it. I dream about it. I walk its streets and see something new each day - traces of faded lettering on the stone, still legible, but just; some facade that I have walked past before and not noticed; an unregarded doorway with the names, in brass, of those who lived there sixty years ago, the bell-pulls sometimes still in place, as if one might summon long-departed residents from their slumbers." - A. McCall Smith, A Work Of Beauty
Upon exiting Waverley Station you can't help but feel like you have arrived right at the beating heart of Edinburgh. Our hotel by the station, on the opposite side of the Princes Street tramlines, gave us the perfect base from which to explore and a comfy bed at night. After checking in overnight bags and with rain lashing down, we headed to the Elephant House Cafe on George IV Bridge, famed for being the place that J.K Rowling had written the Harry Potter books while overlooking Edinburgh Castle. We had shared the very same view over an excellent lunch (haggis for me, of course).
Victoria Street and West Bow merge together to elegantly curve through the Old Town in a splash of brightly coloured shops set beneath historic architecture. It is one of the most picturesque areas of Edinburgh providing street level views and shots from above. With the rain persisting we photographed colourful passers by, concentrating on composition in a street photography style.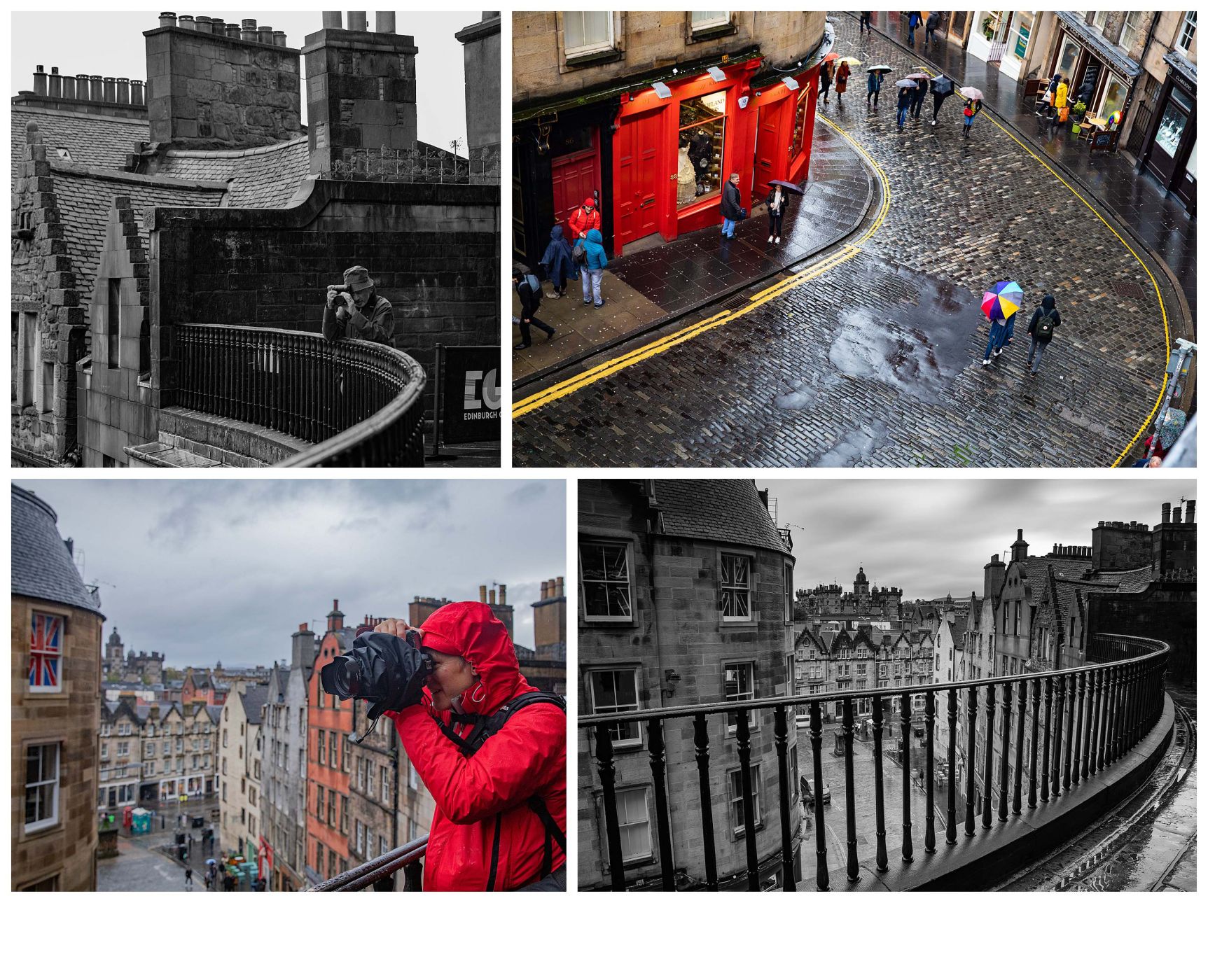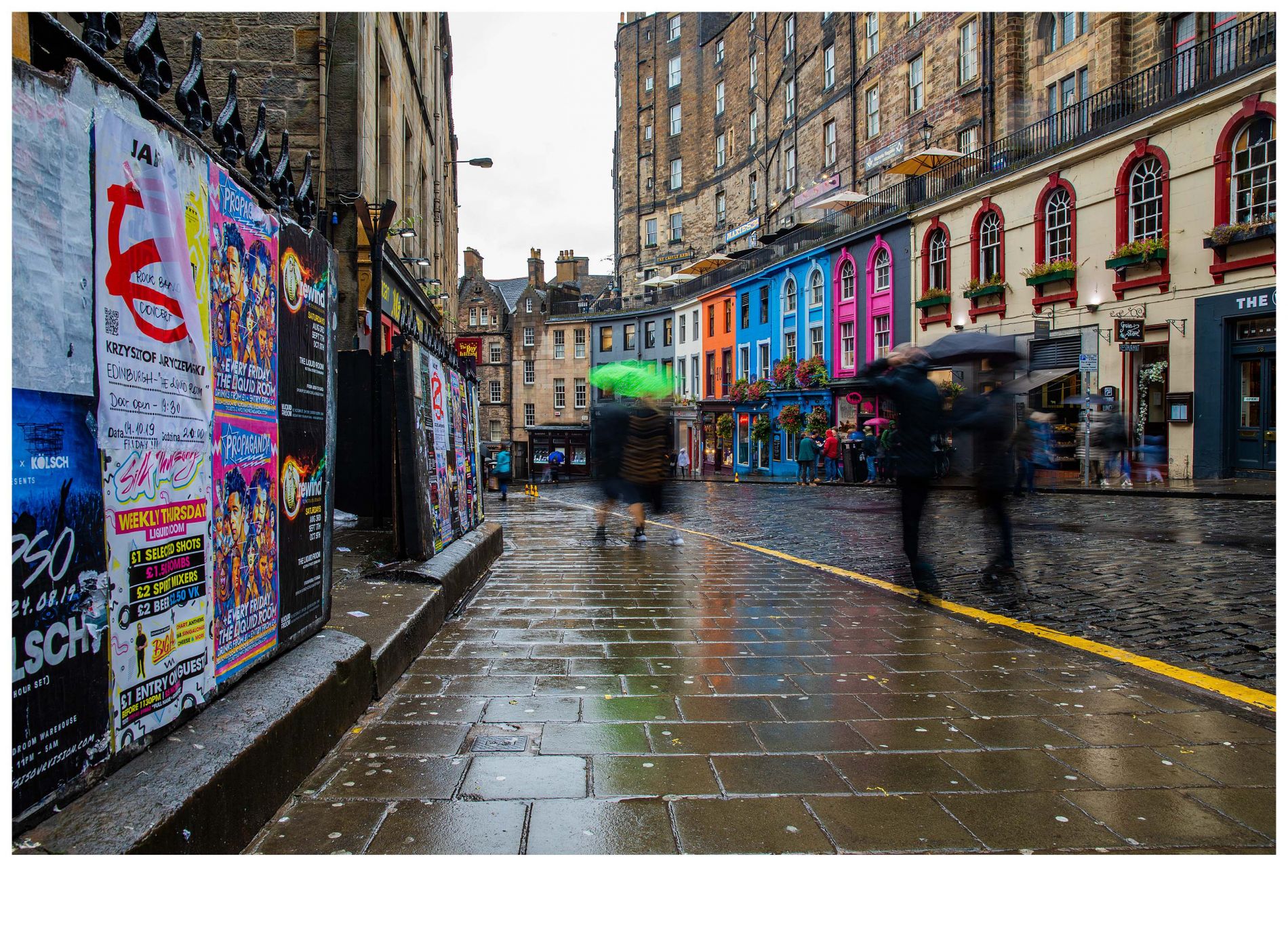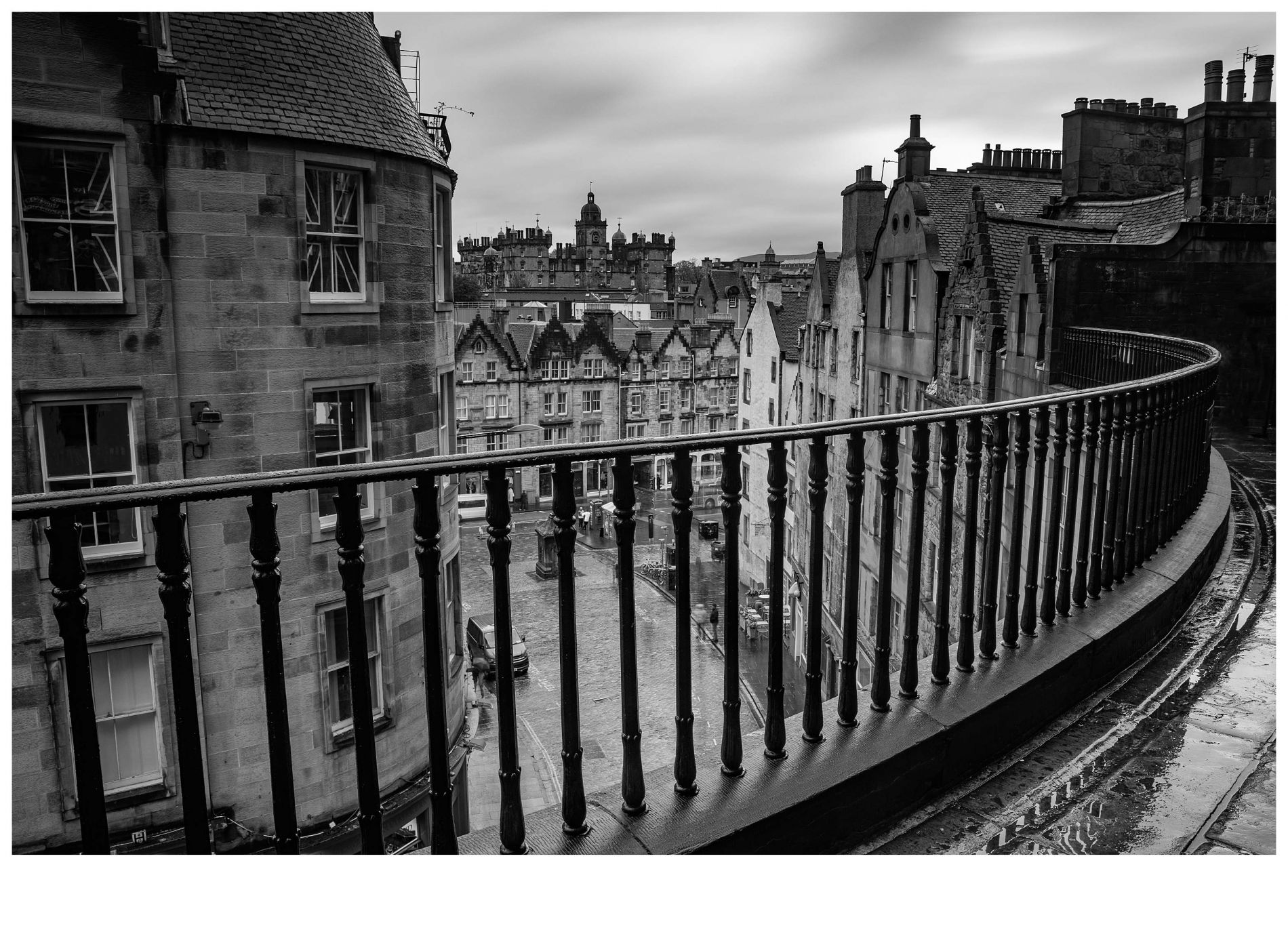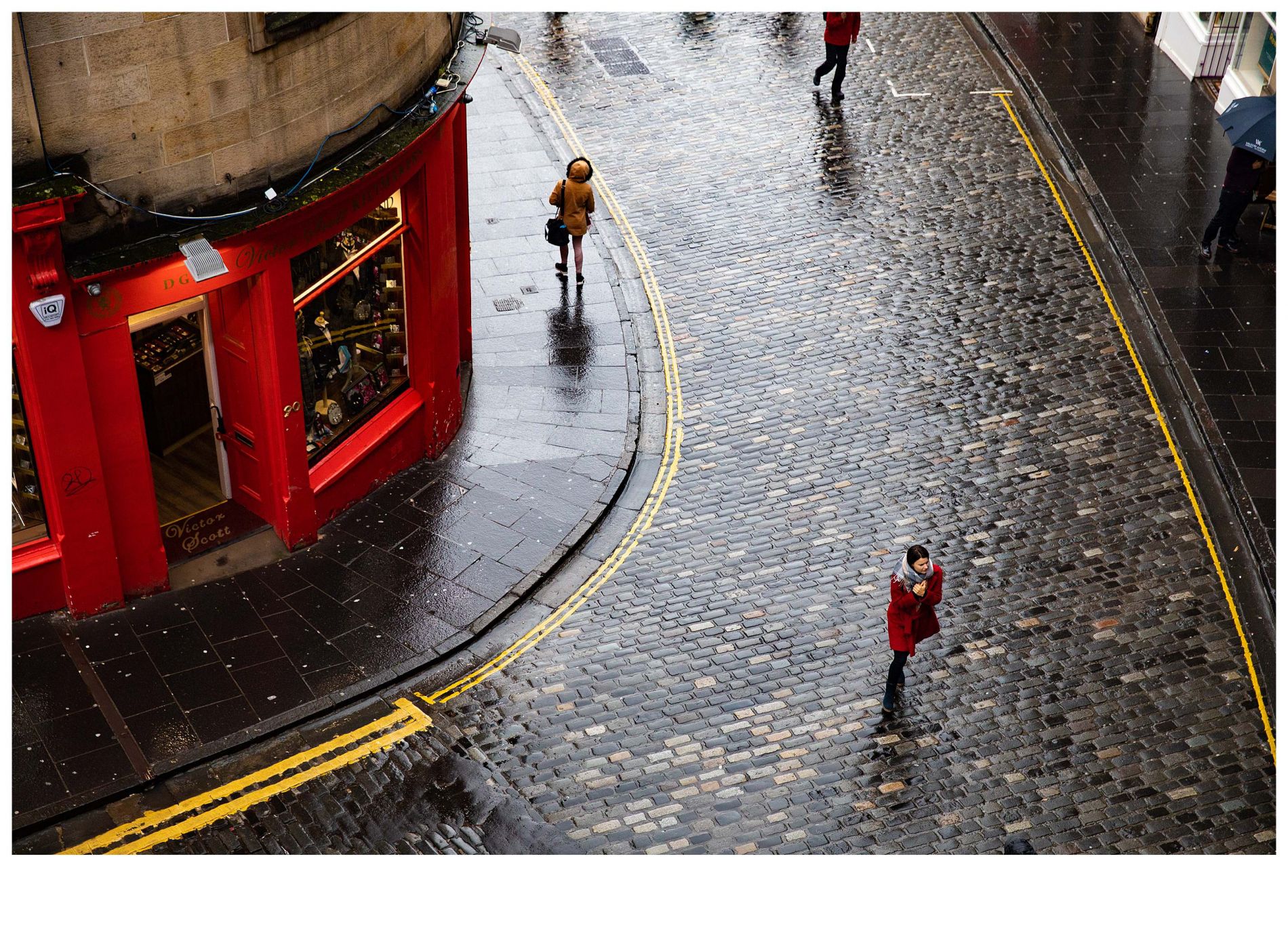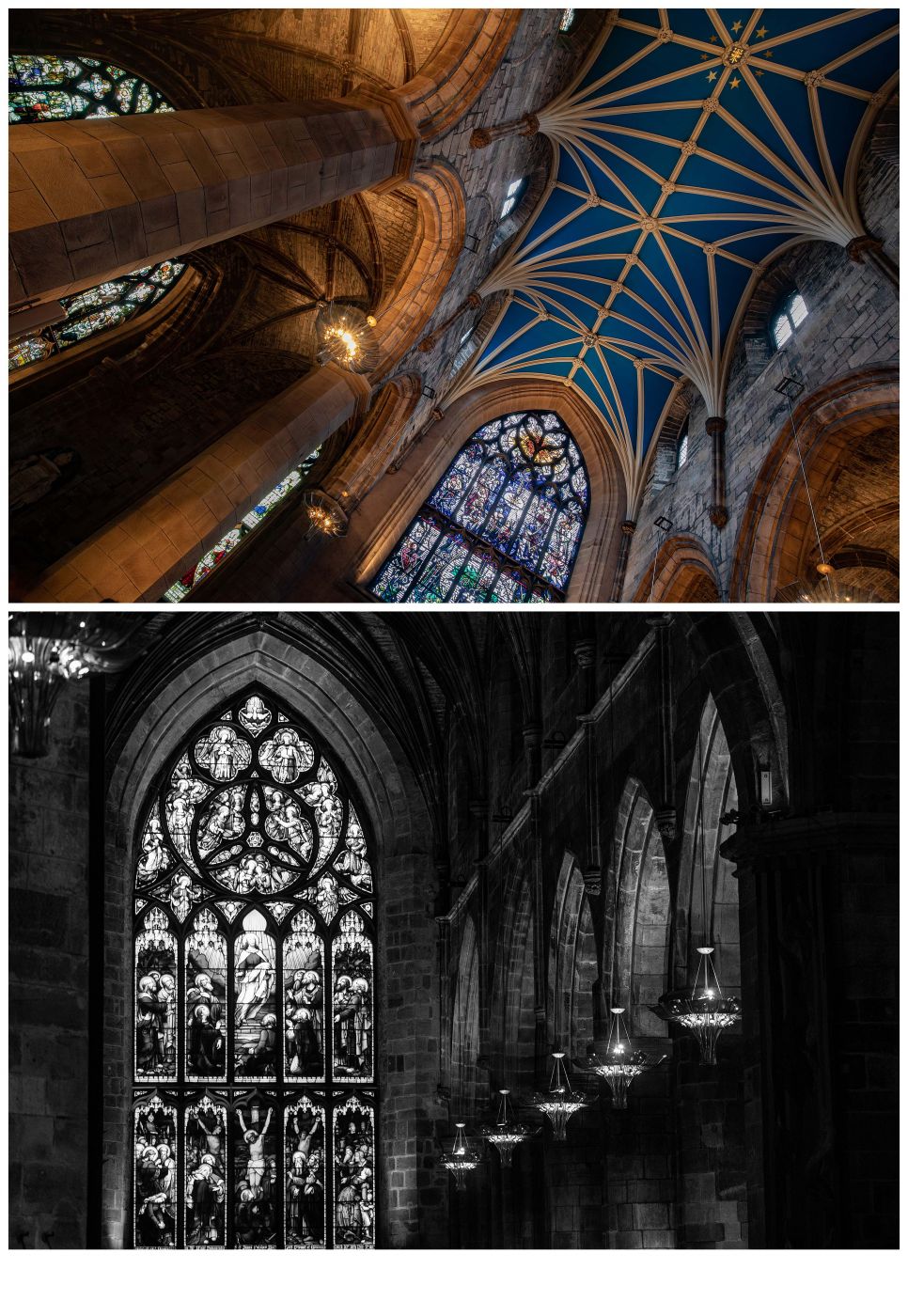 We headed into St Giles Cathedral to find solace from the weather and to shoot the fabulous interior of this magnificent 12th century building that sits proudly on the Royal Mile. The vivid blue ceiling and the Rieger Organ are wonderful subjects to photograph.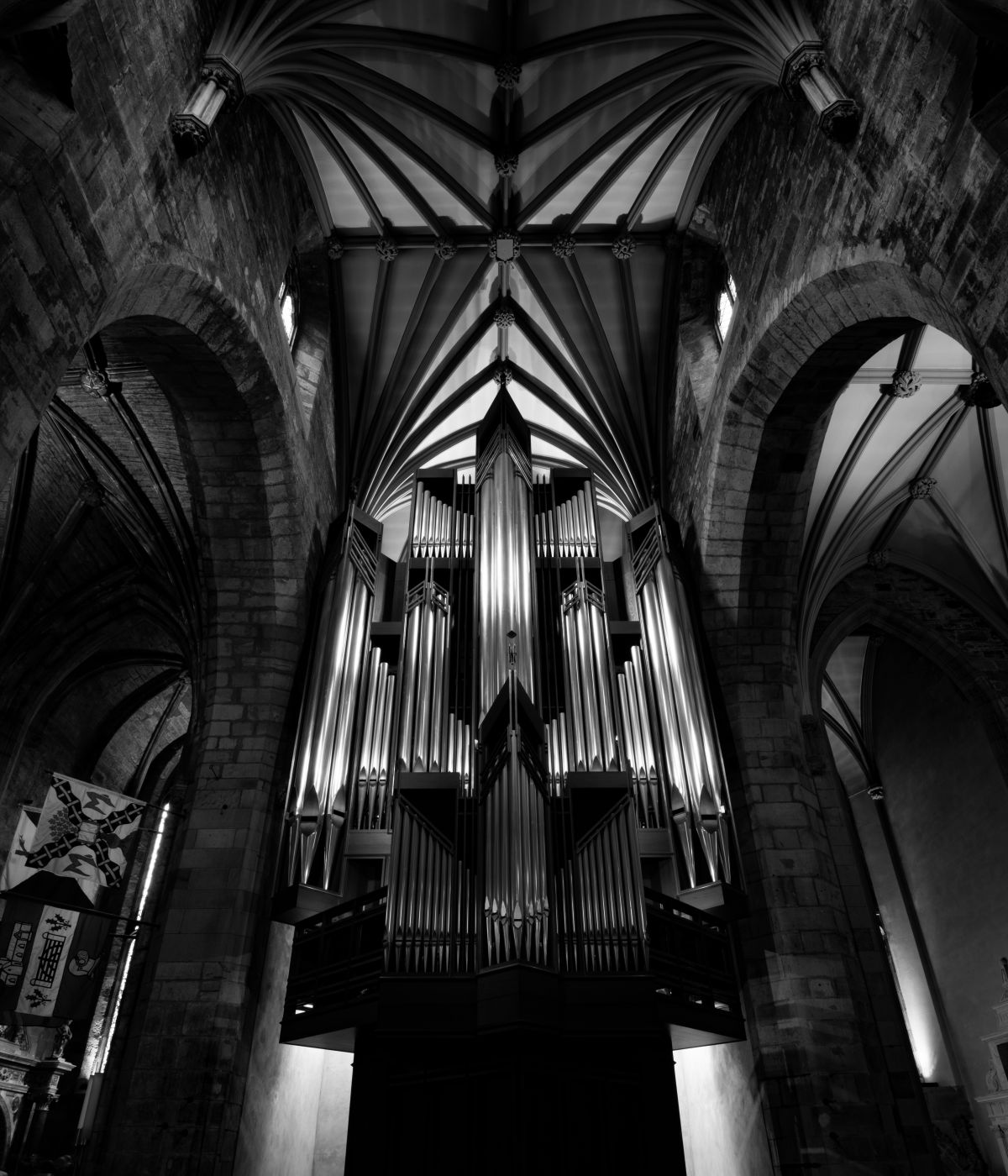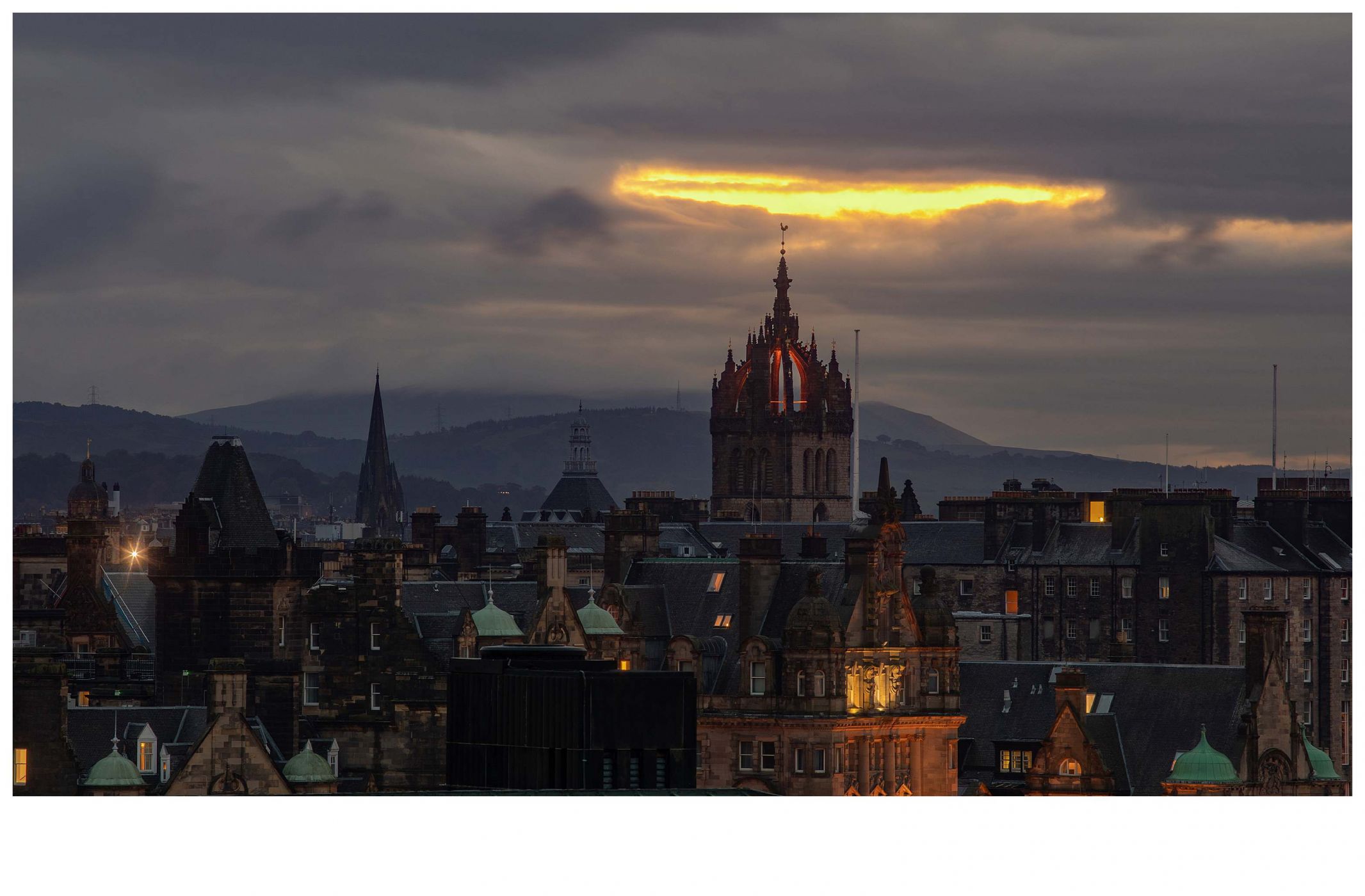 Making our way back across to the new town, we headed for Calton Hill to shoot the Edinburgh skyline as the sun was setting. This gave us a vantage point of St Giles cathedral, Edinburgh Castle, the Balmoral Hotel and Princes Street traffic as day turned into night. It had already been a highly productive day, despite the weather, but with a break in the rain and night upon us, we took a train to North Queensferry to shoot the bridges of the Forth.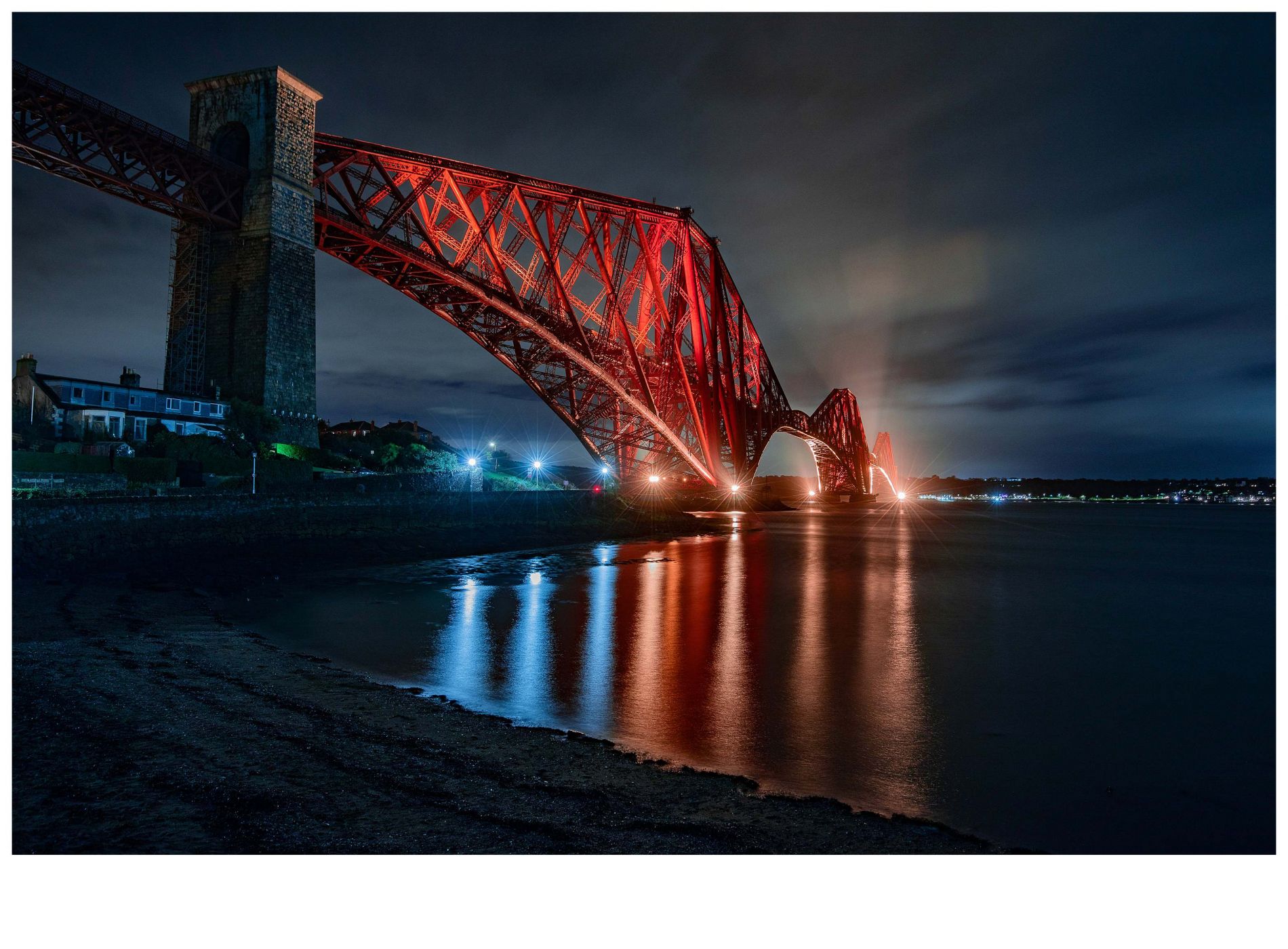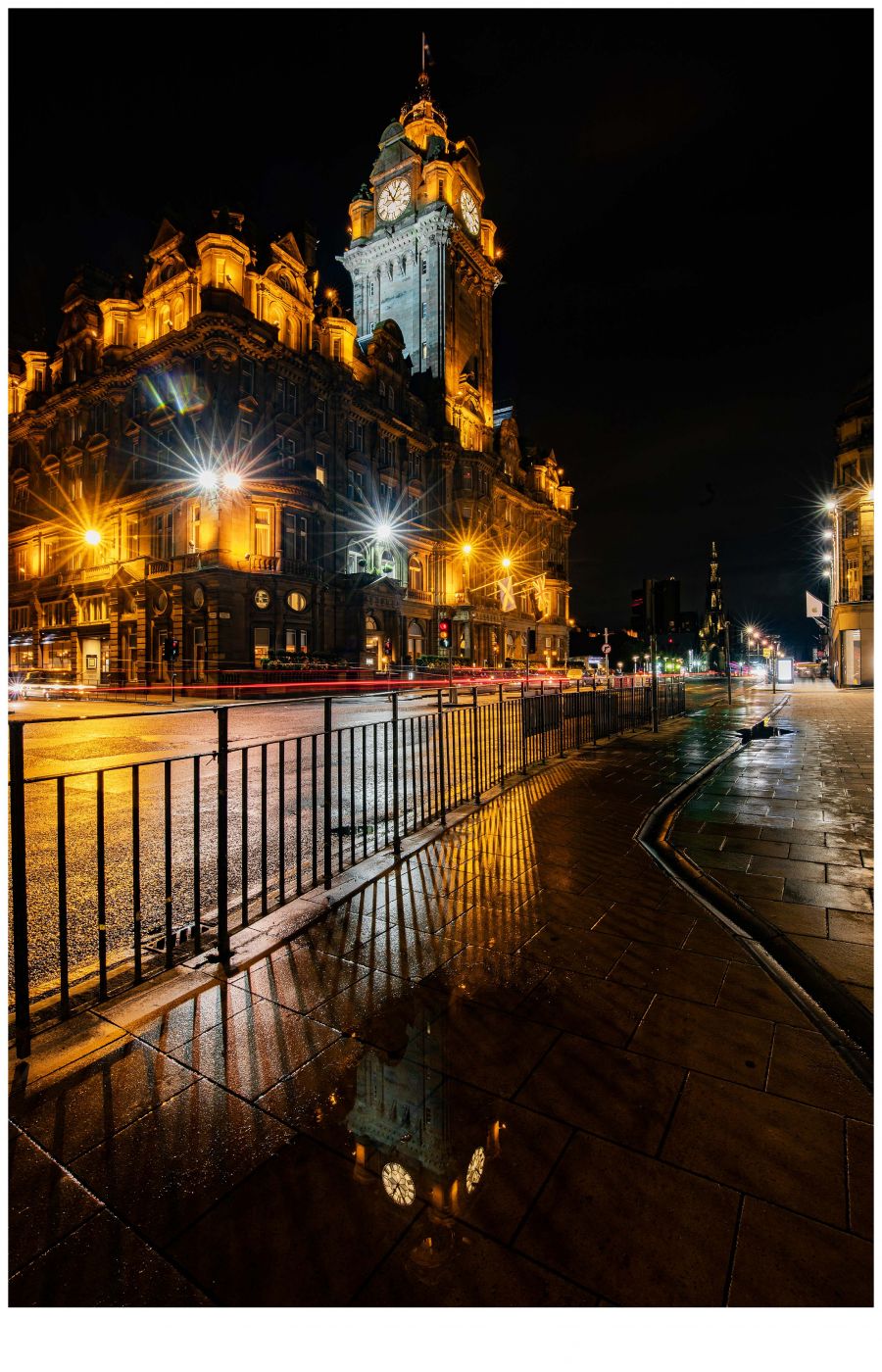 Eagle eyed Andy had spotted this puddle on our way to the station just before our train to North Queensferry. He'd had his eye on it for our return to the city, when there would be less people wandering the streets and, inevitably, ruining the reflection. After a very busy day most of the guys headed up for a well deserved sleep while Andy and I made our final compositions of the day.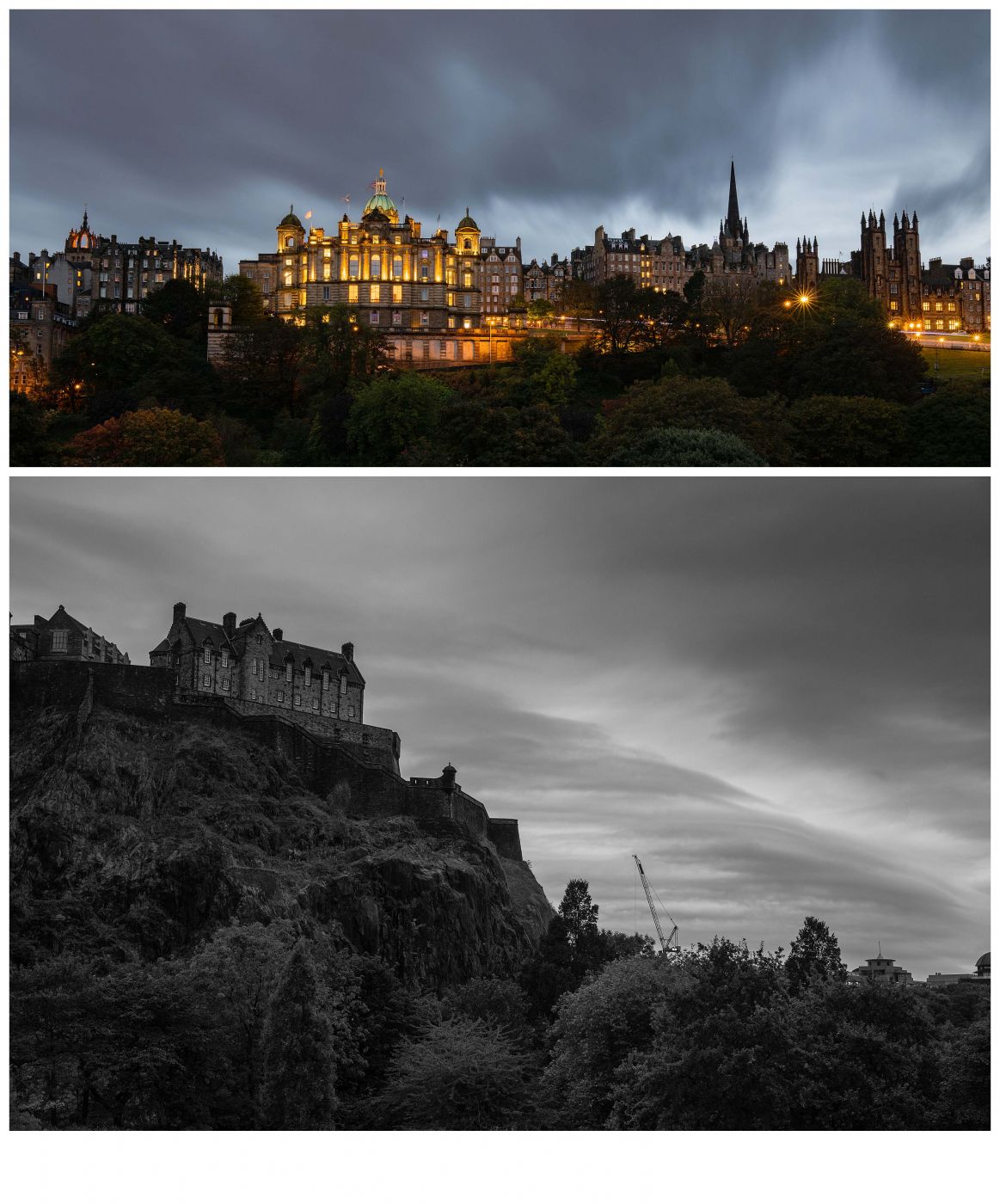 With low visibility and spots of rain forecast for the morning we didn't hold out much hope for that perfect sunrise but it's always worth getting out of bed early to shoot the morning light. With the broken cloud being pushed along by a moderate breeze we took the opportunity to shoot the buildings of The Mound and a view of the castle from Princes Street before heading for a hearty breakfast at Grassmarket.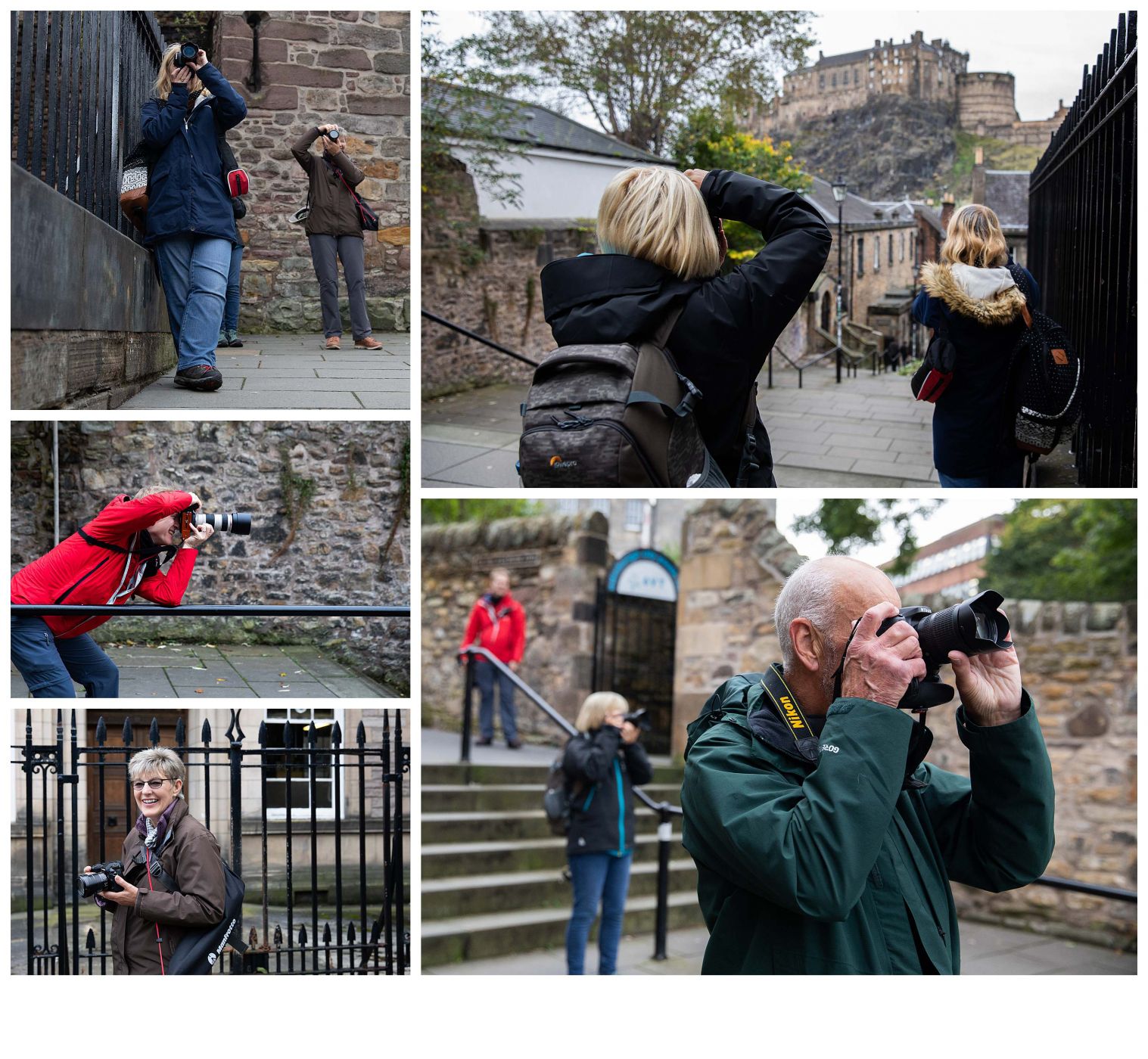 A classic shot of Edinburgh can be taken from The Vennel, just off Grassmarket. As we ascended the steps to shoot a view of the castle we were dismayed to find a tree surgeon working on the gardens right in line of our shot (typical bad luck)! The foreground was covered in sheared trees and foliage rendering a shot that included foreground steps as a non starter. To turn this into a positive, we introduced ourselves to Matthew, the tree surgeon, and asked if we could take his portrait. Part of the challenges that I'd set for the attendees was to shoot a portrait of a local and Matthew was more than happy to oblige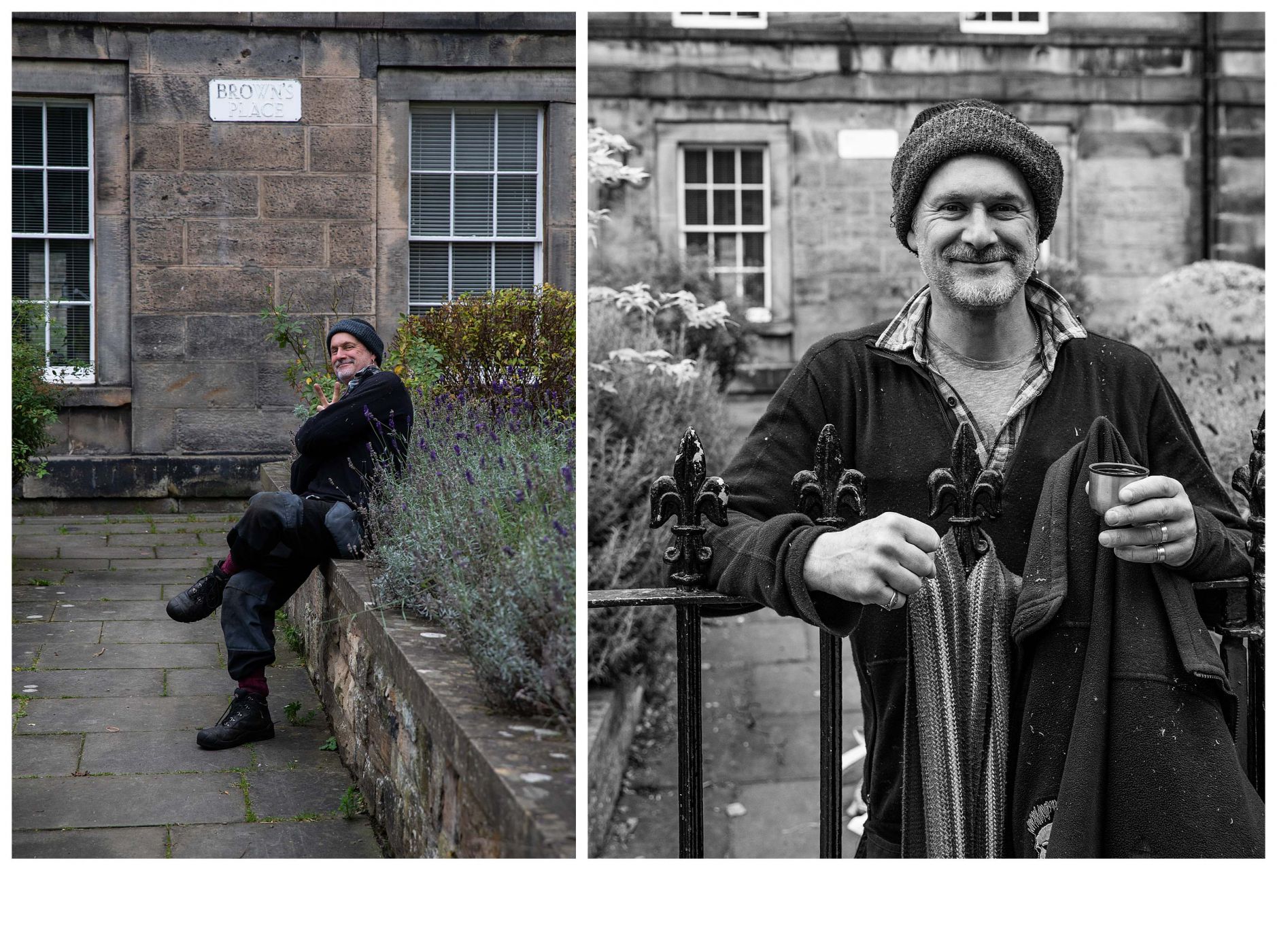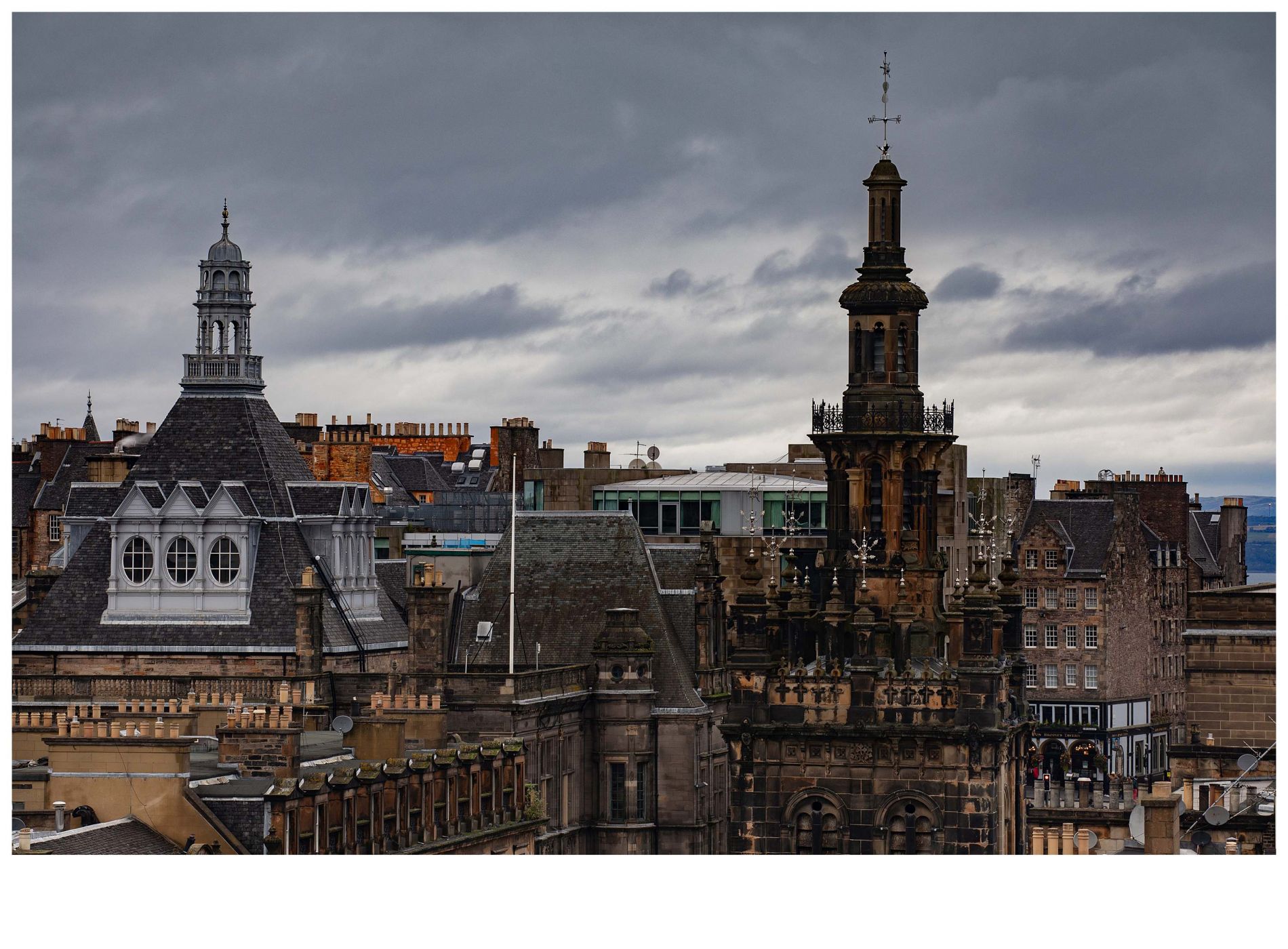 We headed to The National Museum of Scotland to shoot from the roof terrace. The museum also provided a great backdrop for candid photography, with the light airy space giving us plenty to work with. It's a brilliantly vibrant museum and is well worth a look with or without a camera.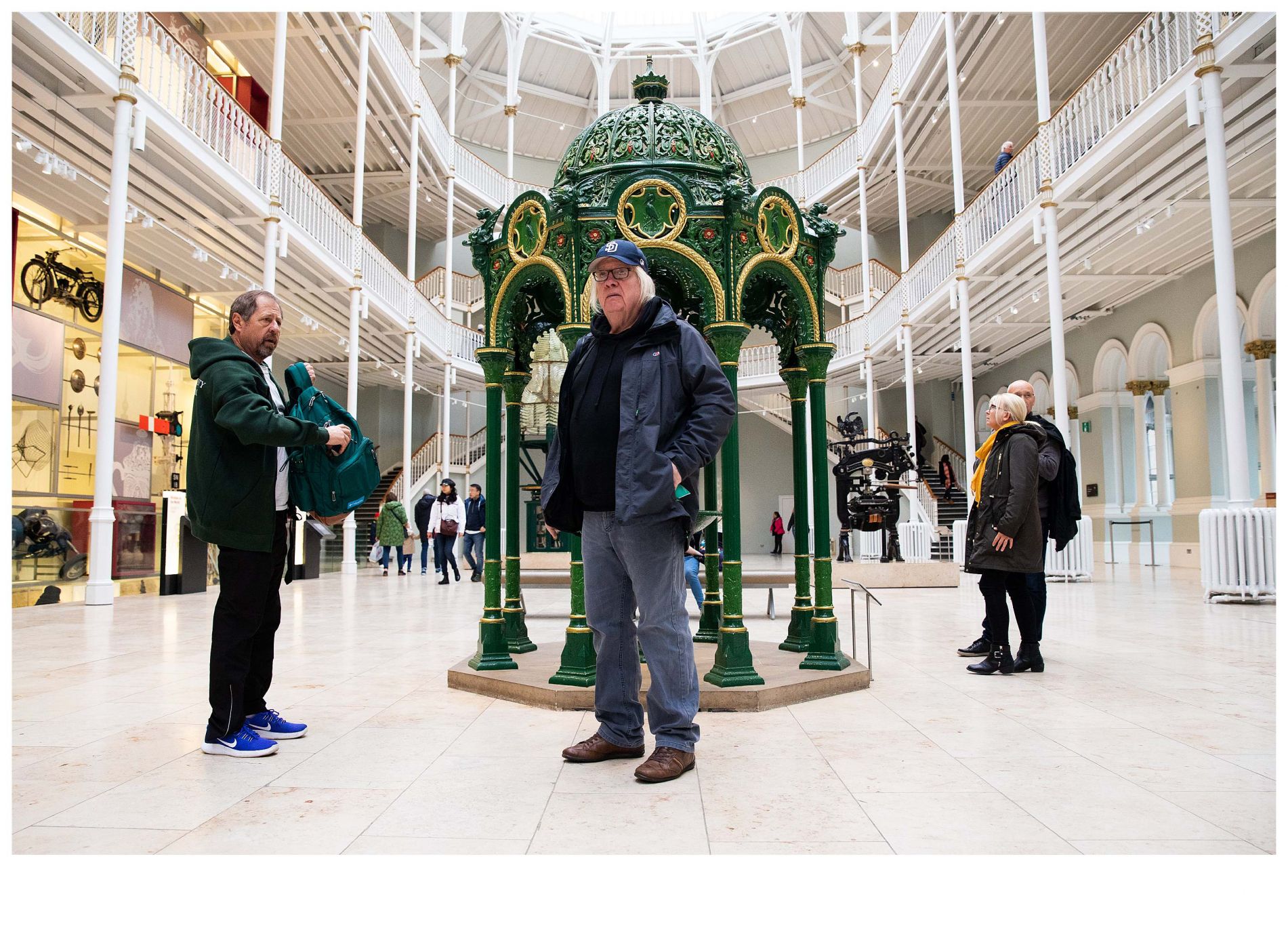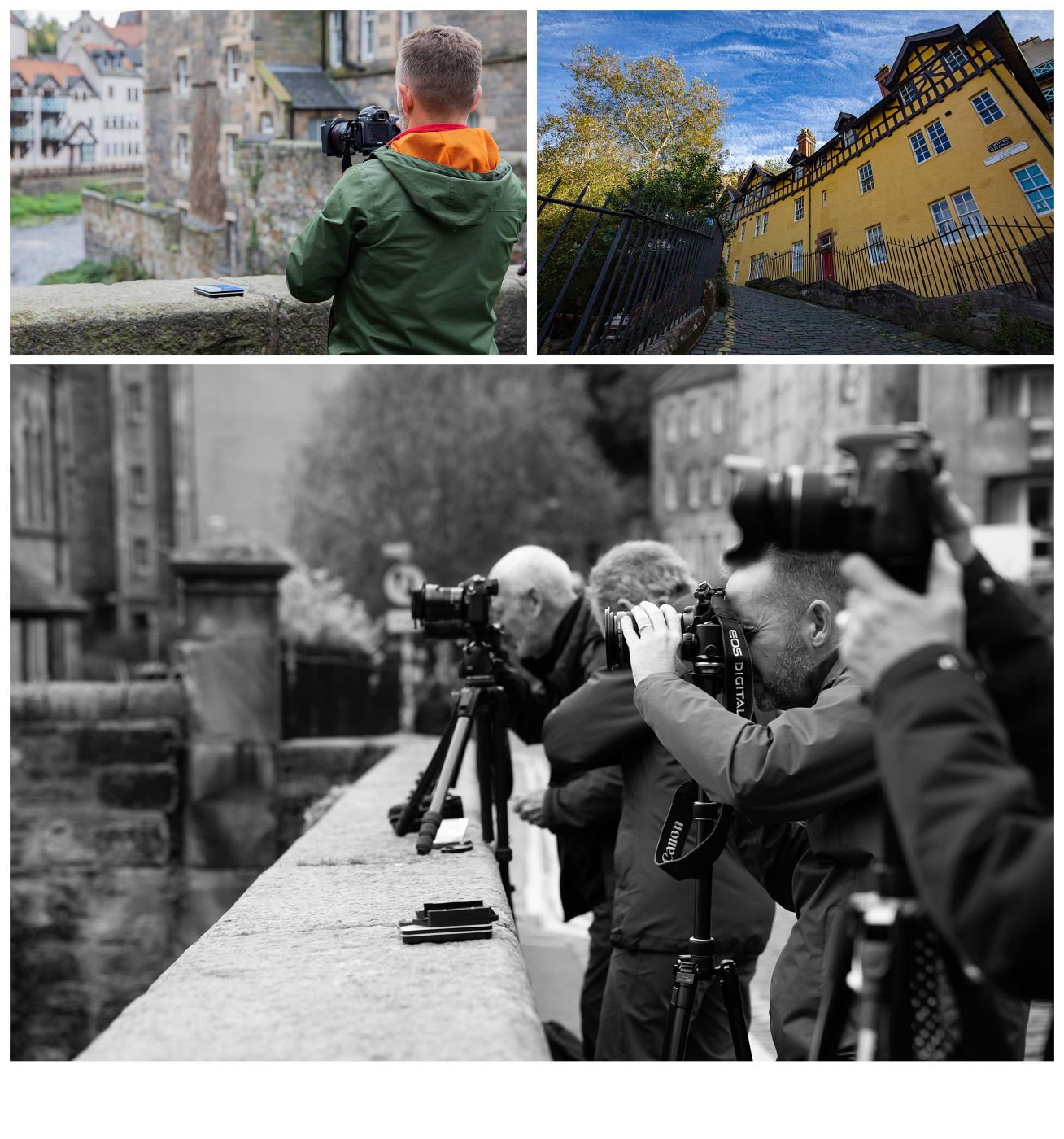 The best of the weather came towards the end of day two as we made our way to Dean Village. The sun made an appearance and gave us light and shade to shoot while we ambled around the beautiful streets running by the Water of Leith. The strong sunlight gave us an opportunity to shoot high contrast street scenes and architecture.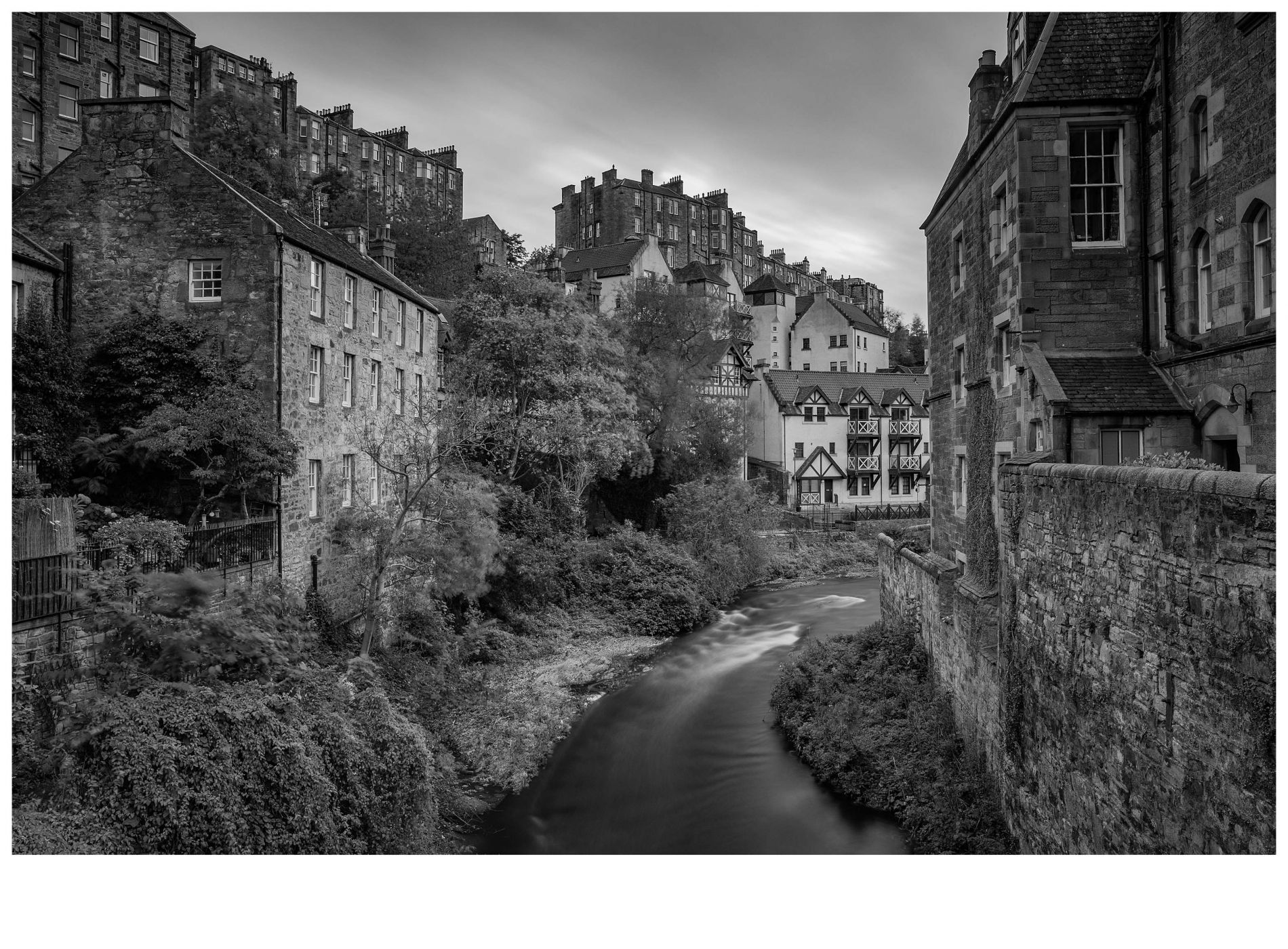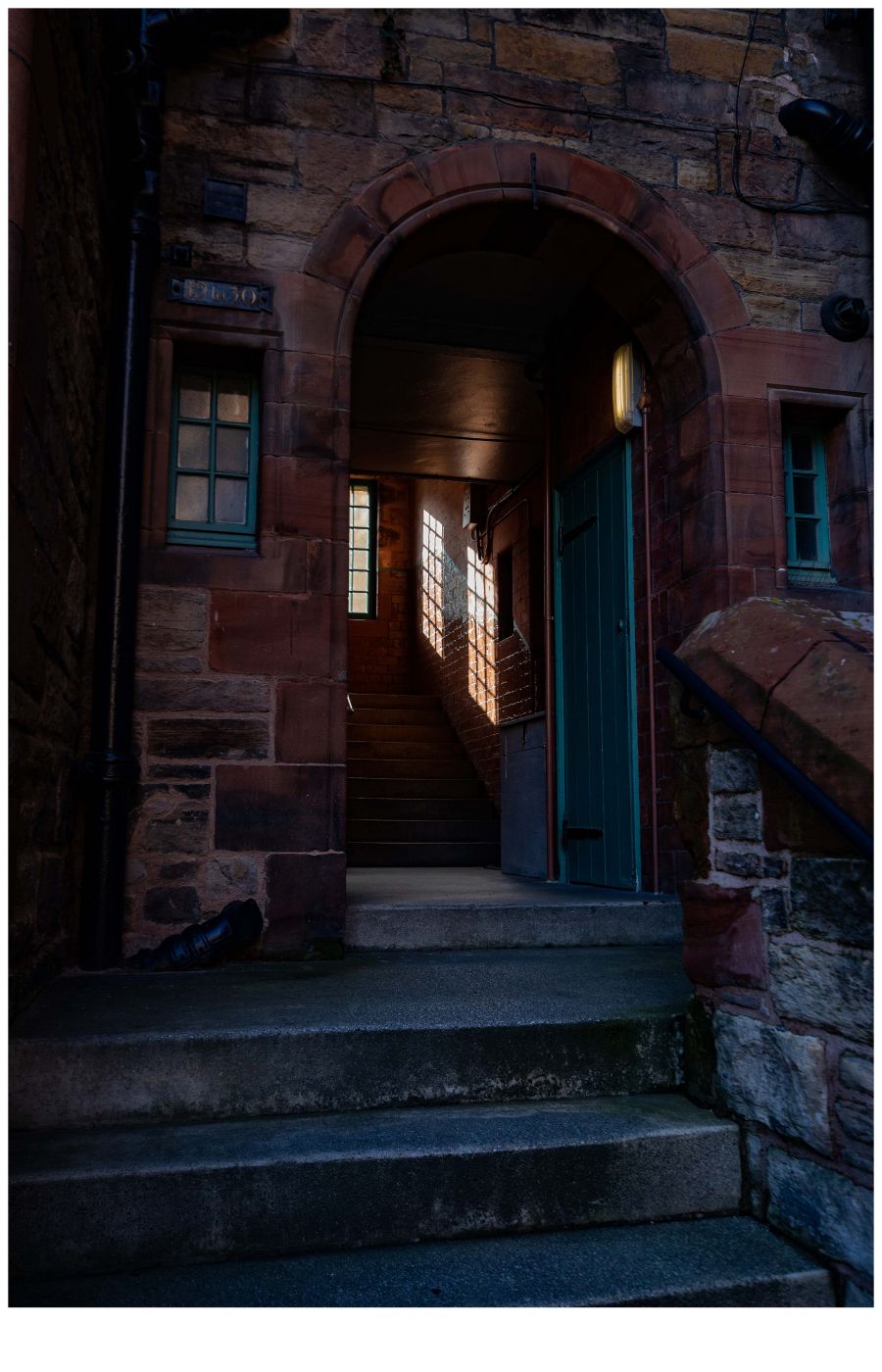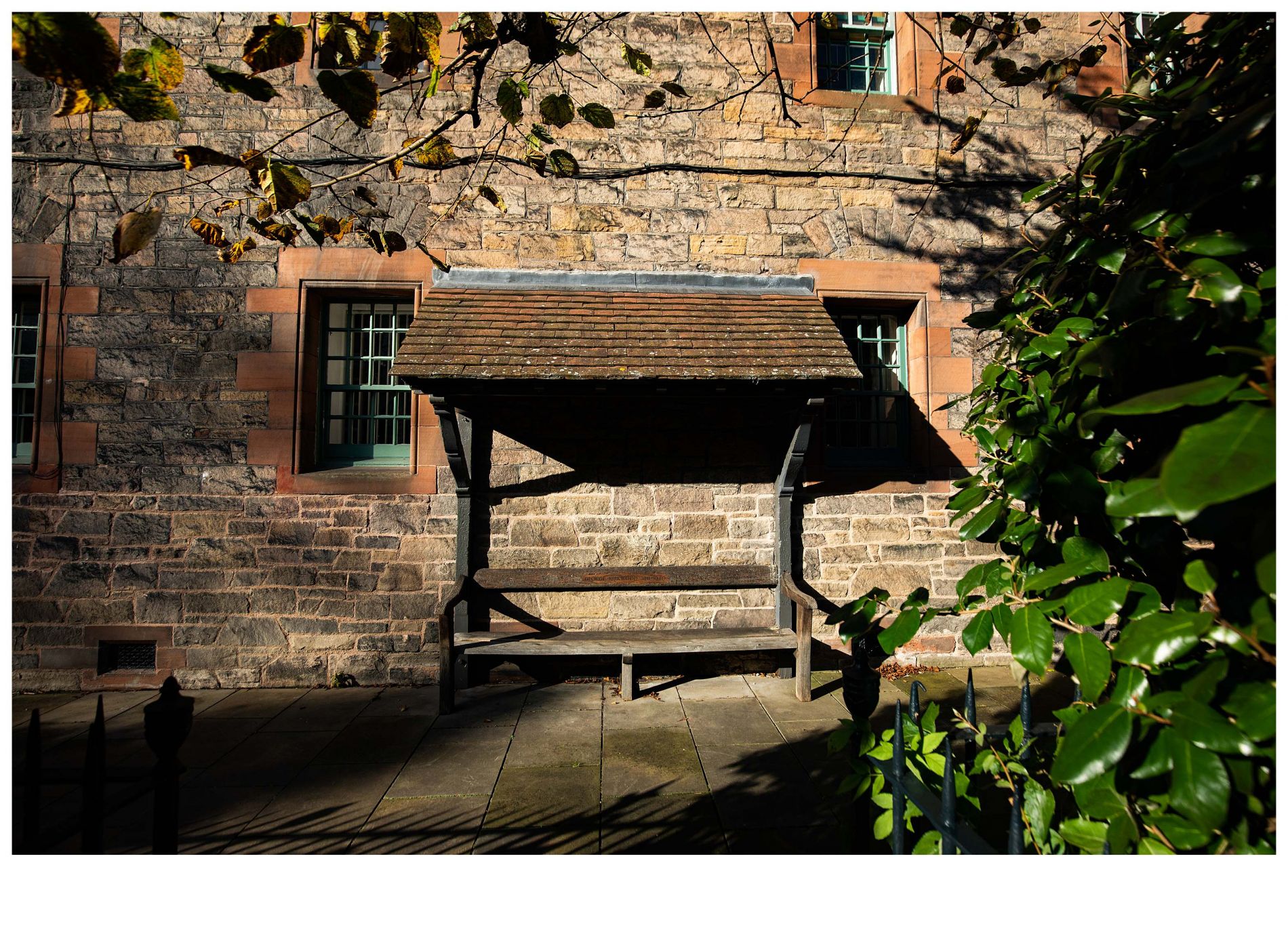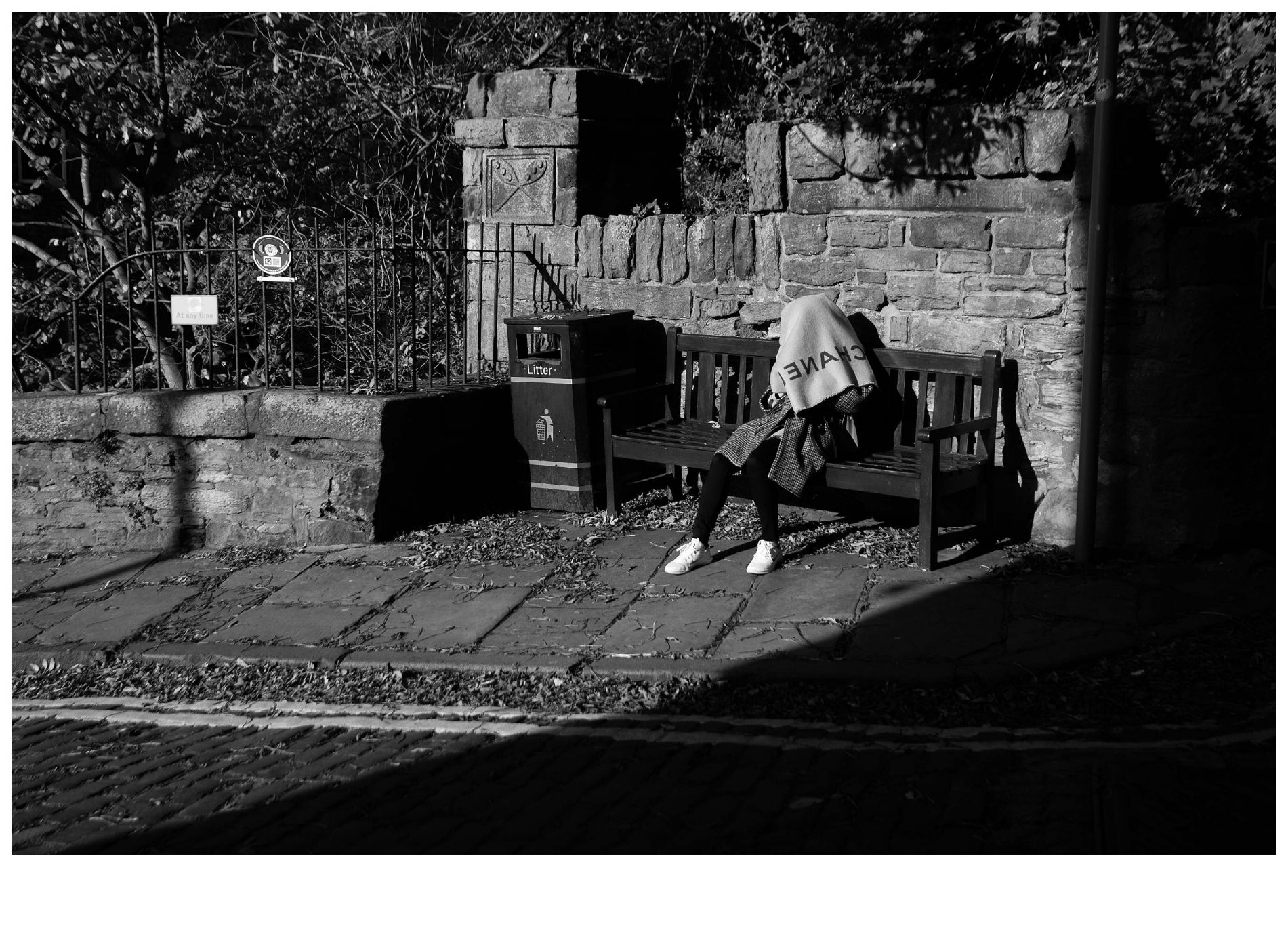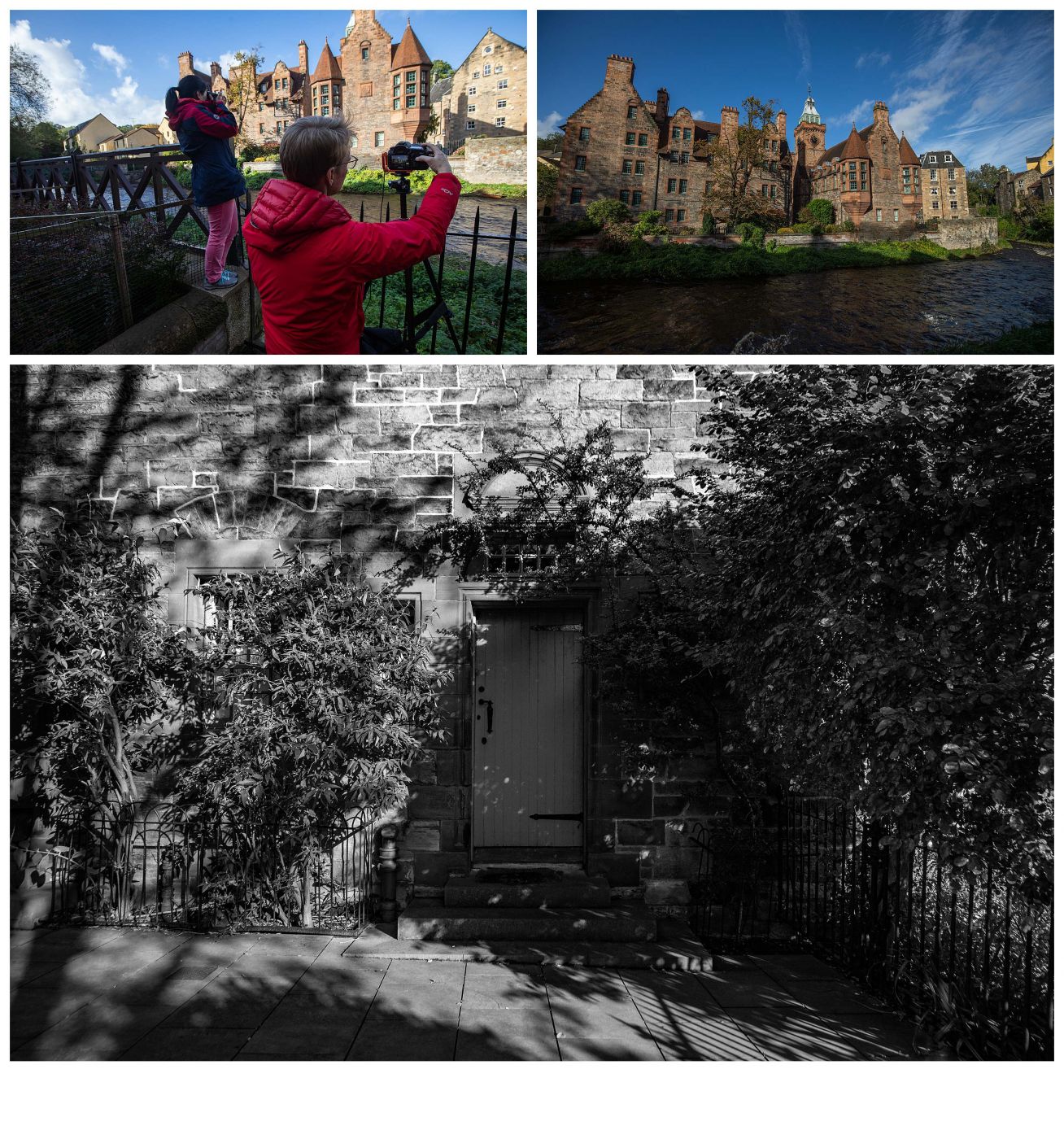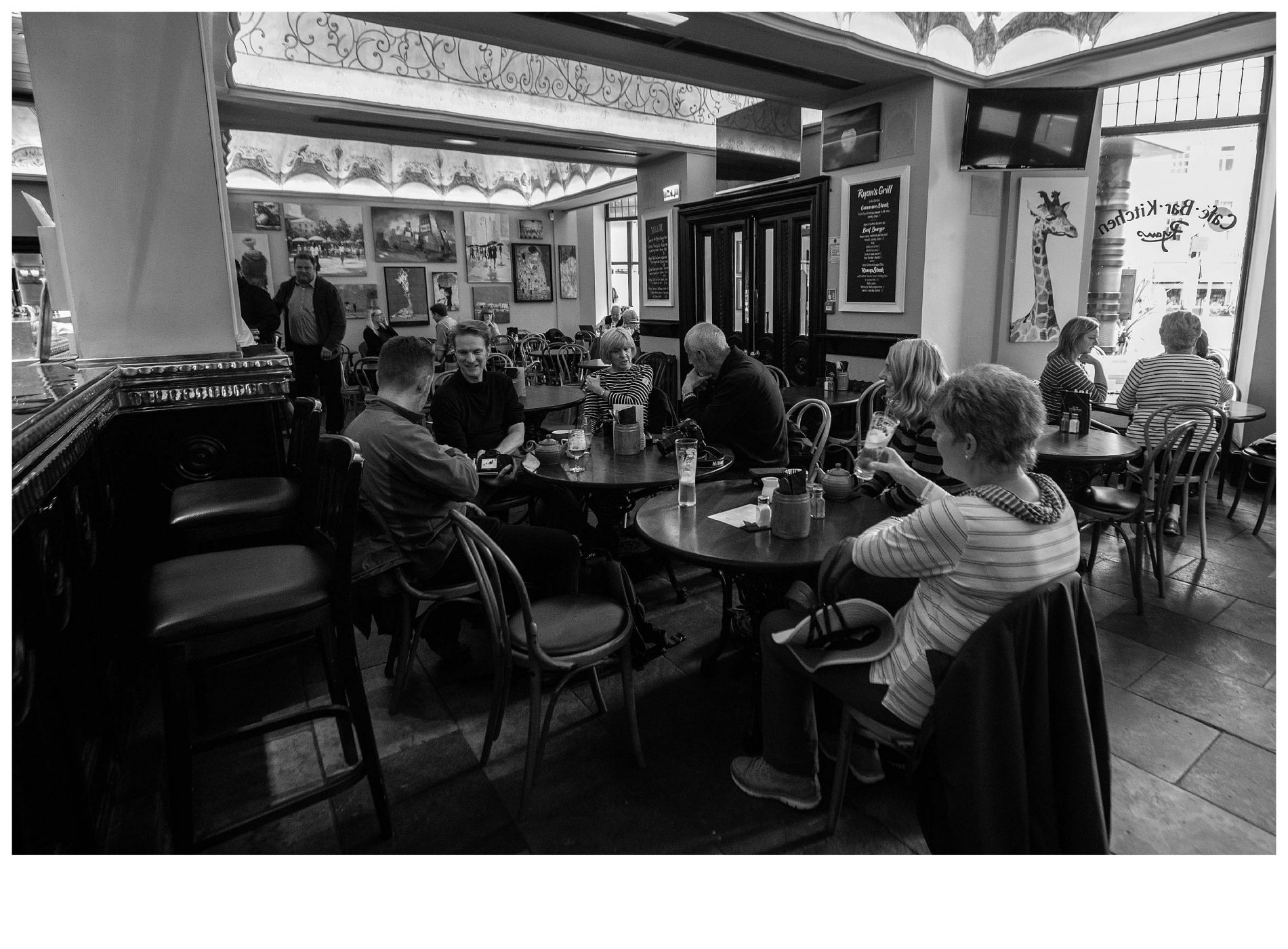 While heading back towards Princes Street Gardens for our final shots, we stopped for a celebratory pint! The session around Dean Village had felt like something of a breakthrough after struggling against the weather for most of the day. It had been a long day too, with many miles covered and many images in the bag. We had around an hour or so before catching our train home and used this time to shoot long exposures of Edinburgh Castle from the gardens below. With the late afternoon light casting a warm glow on the castle above, this was the perfect way to end an eventful time in Scotland.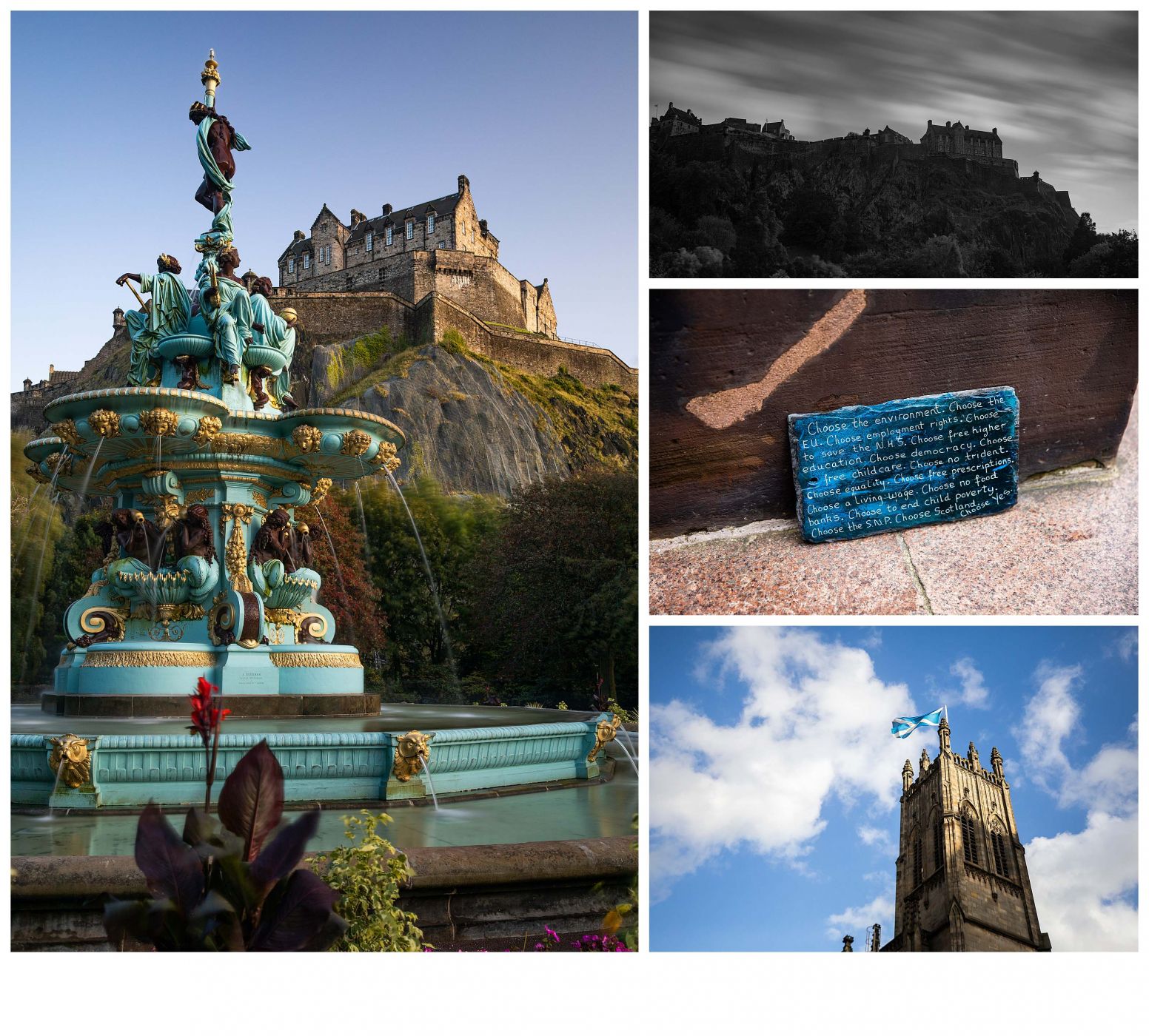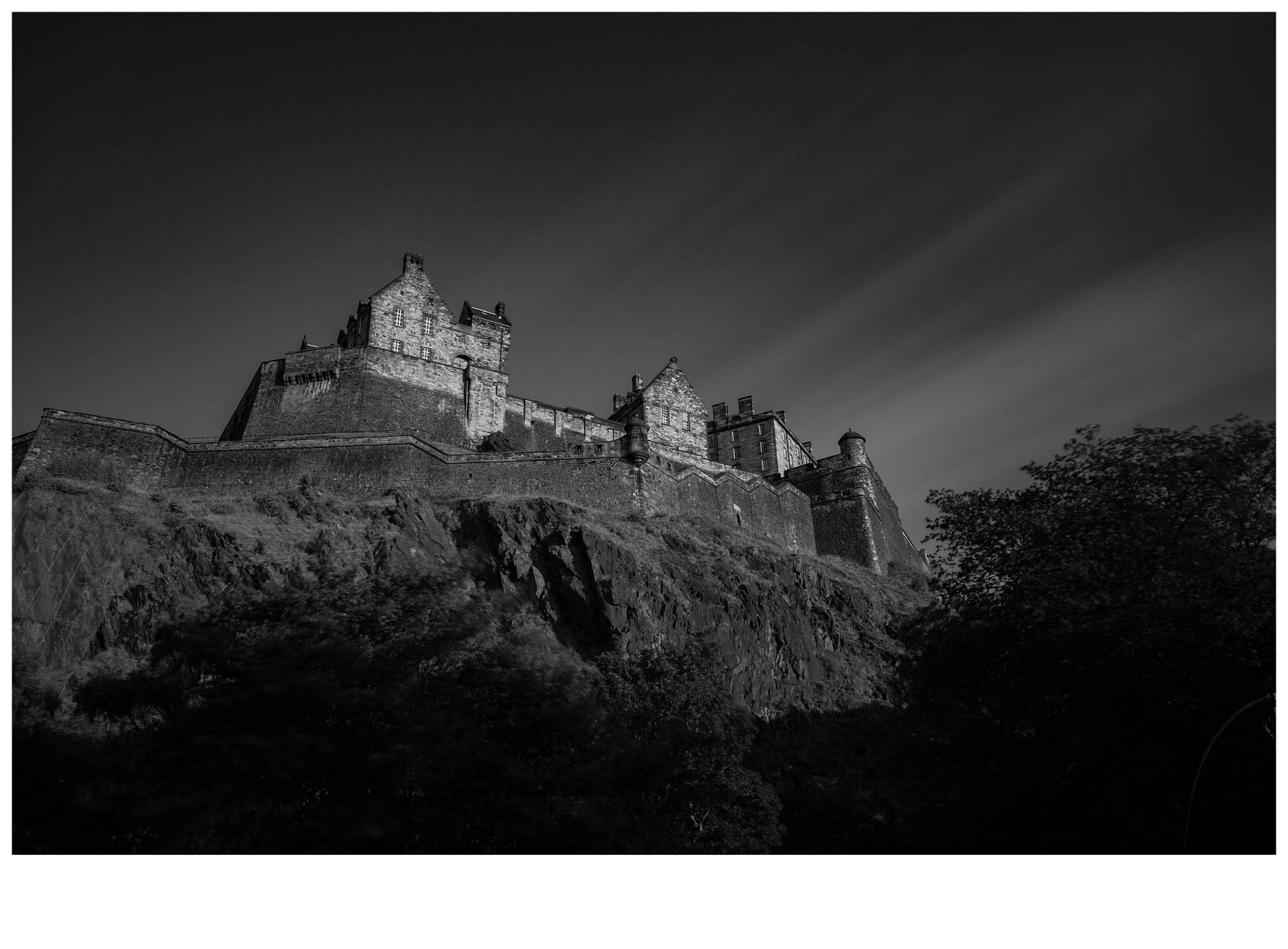 Thank you to Janice, Andy, David, Lynne, Mark and Carmel for joining me on this trip. Great company and enthusiasm throughout the entire journey made this workshop a real pleasure to run, despite the weather, although I'm kind of getting used to shooting under poor conditions now! With the right attitude and a little bit of hard work, you can always find something to shoot, particularly in a location as inspiring as Auld Reekie!