Venice Workshop Review
Posted on 7th September, 2018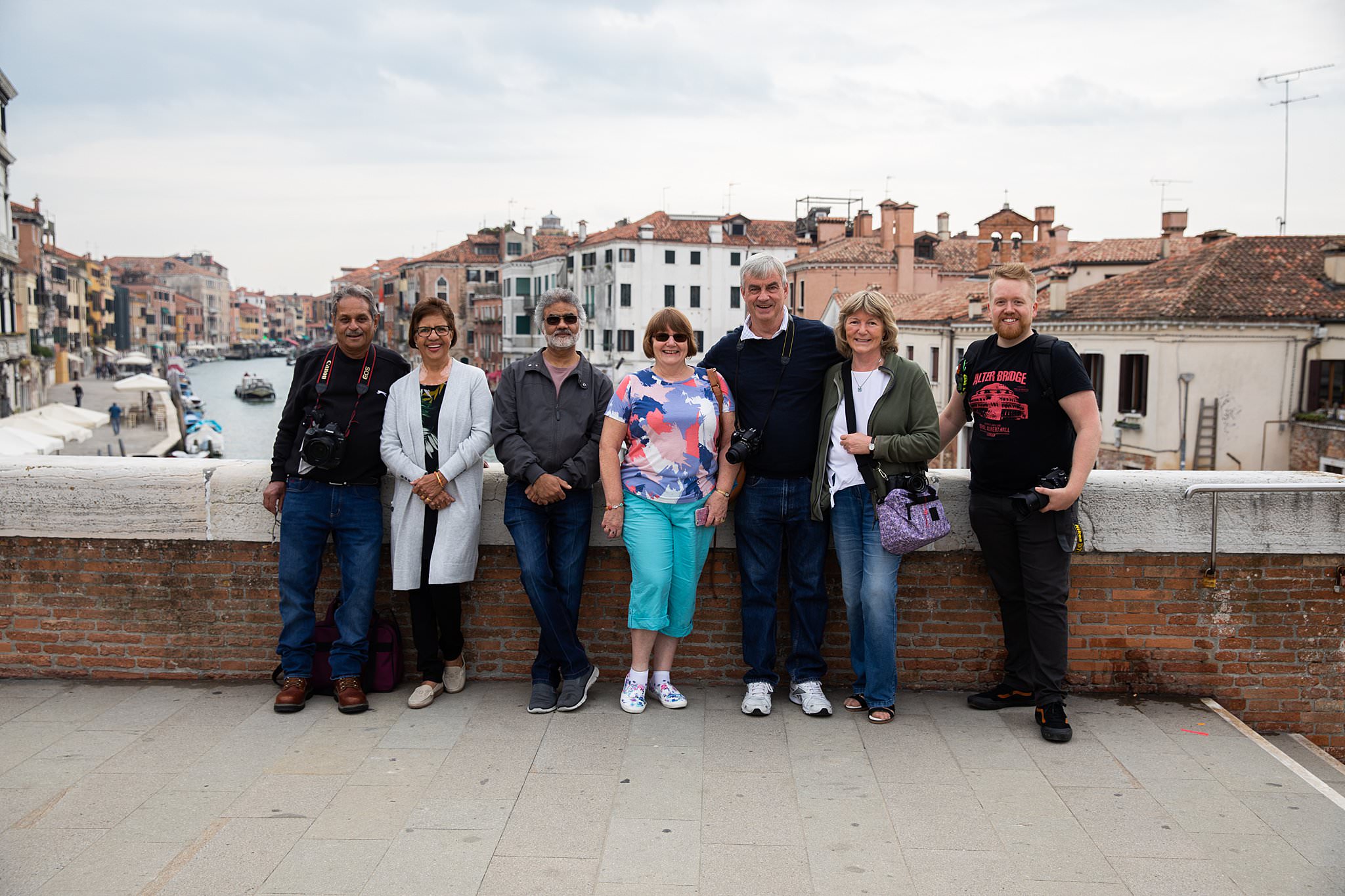 Venice!!! La Serenissima, Queen of the Adriatic. A city submerged in water, awash with a maze of narrow canals, history at every turn, decadent architecture in the most likely and unlikely of places, a city of unwavering romantic charm, where the sound of a car engine and the haze of exhaust fumes become a distant memory. Ahh Venice, a photographers paradise surely?? Read on to find out.....
A group of 7 joined me for a photographic excursion to this famous part of Northern Italy and we had been eagerly anticipating our departure from Leeds/Bradford airport on an October morning. With passports checked, bags loaded and boarding passes in hand, we departed for Marco Polo enjoying birds eye views over the Piazzo San Marco during the final stages of our (thankfully) rather uneventful flight. The excitement moved up to a whole new level during a water taxi ride, a la James Bond, hurtling across the water from the airport to our hotel in the Canareggio district. This is, unquestionably, THE way to arrive in Venice.
First impressions of the Hotel Tintoretto (named after a famed Venetian artist) were good! The rooms had an authentic charm with views form our balcony out onto the Strada Nova, a main thoroughfare in Canareggio which is a beautiful area populated mostly by locals.
So far so good, nice hotel, great location, no problems with getting here, no camera breakages or lost luggage. I knew my luck must run out sooner or later....and so it proved.
For our 4 nights in Venice I was sharing a room with Joe, who was helping me to run the workshop. Our room was great, but we were going to have a problem with the sleeping arrangements. Two beds, one double, one single. I like a lot of space to crash after a hard day of shooting and I was quickly to learn that Joe had his eye on the double bed too. Only one way to sort this out, heads or tails with a shiney 1 Euro coin. My luck ended right there. 1-0 to Joe.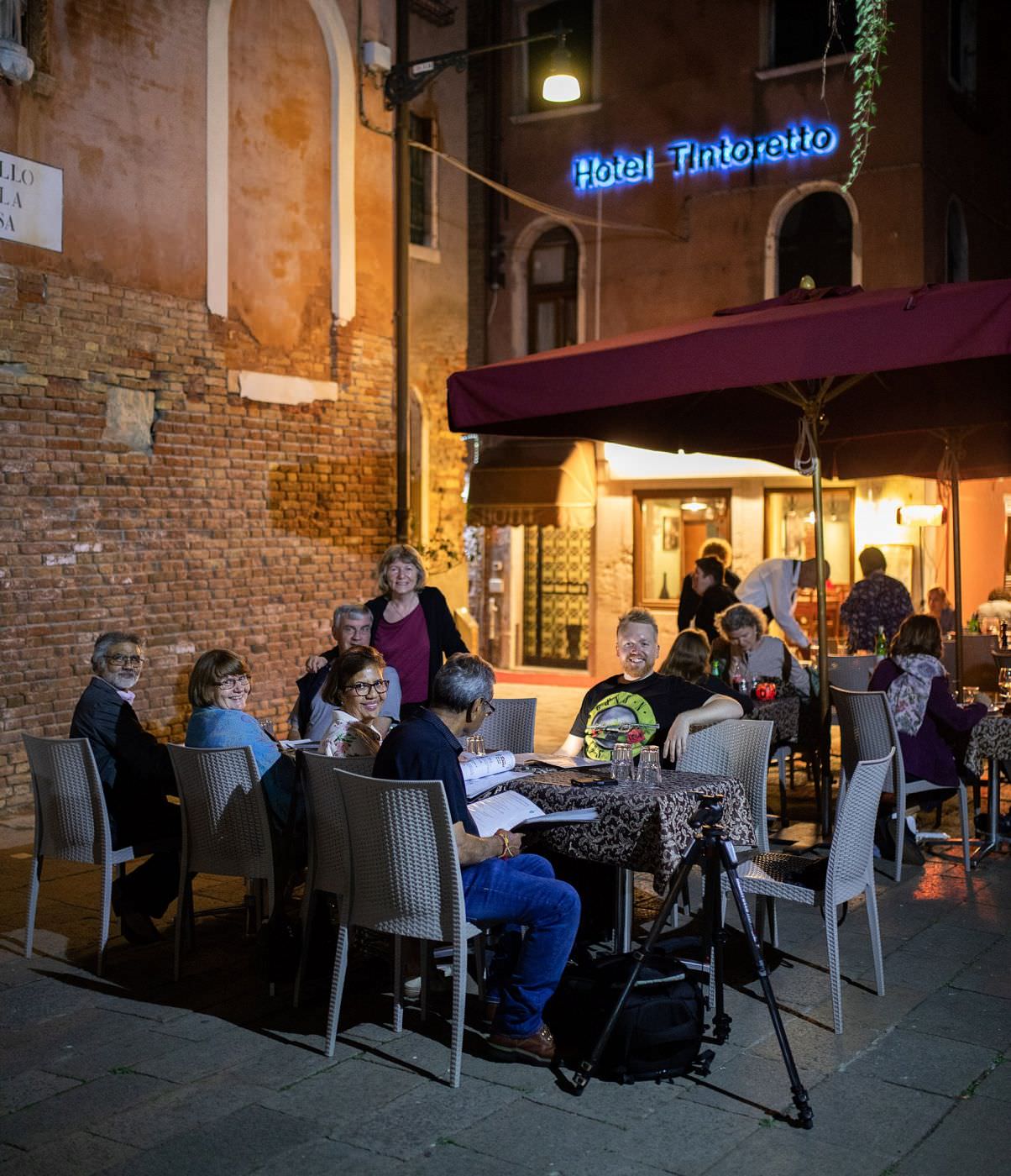 20 minutes at the hotel was more than enough time to refresh ourselves before eagerly heading out with our cameras in anticipation of a glorius sunset. We headed to the heart of Venetian splendour, St Marks Basin with views to San Giorgio Maggiore. It's an obvious place for sure, but time was pressing and this classic shot was one that we had all been hoping to catch since we booked this trip many months previously. With cameras set up on tripods, filters and cable releases attached and compositions figured out, we waited with baited breath for the impending sunset and......the cloud rolled in and the sun disappeard. This level of misfortune is commonplace for landscape photographers. Not to worry, we still had 4 days worth of photography in front of us and the night photography was sure to give us plenty of opportunites. We spent time shooting the city streets after dark before hunger pangs got the better of us, it was time to eat! As a side note, the food in Venice is particulary good. From the small cafes service huge slices of delicious pizza to the a la carte restaurants serving the finest seafood and pasta dishes, you could never go hungry here. We even had a cocktail bar just a stones throw away from our hotel, perfect for a nightcap!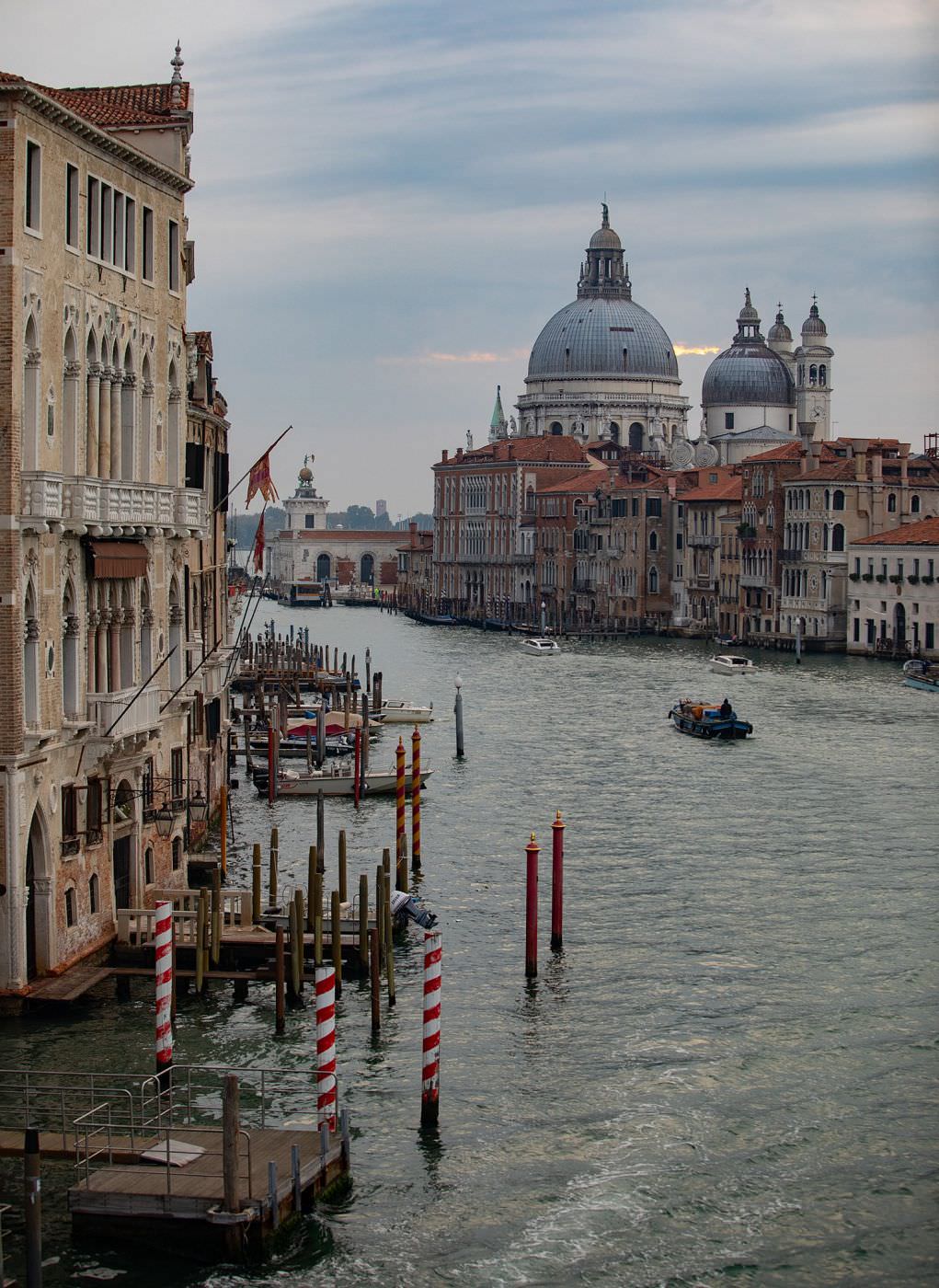 Day two began with an early rise and a walk across town to Academia Bridge. The sun was set to rise in the perfect spot and our view along the Grand Canal is one of the most beautiful and iconic photography locations in the World. Once again, we set up and waited for the colours to adorn the sky with those beautiful hues that we had been dreaming about. This time, the signs were good, colour was beginning to show an the excitement levels grew.....only for the weather gods to squash our efforts once again. It was close, but still not exactly what we had in mind. Not to be deterred we resolved to revisit this location on another morning. The shots we had just before sunset were pretty good, but I had a feeling that we could do better. We headed back to the hotel for breakfast and to plan the remainder of our day.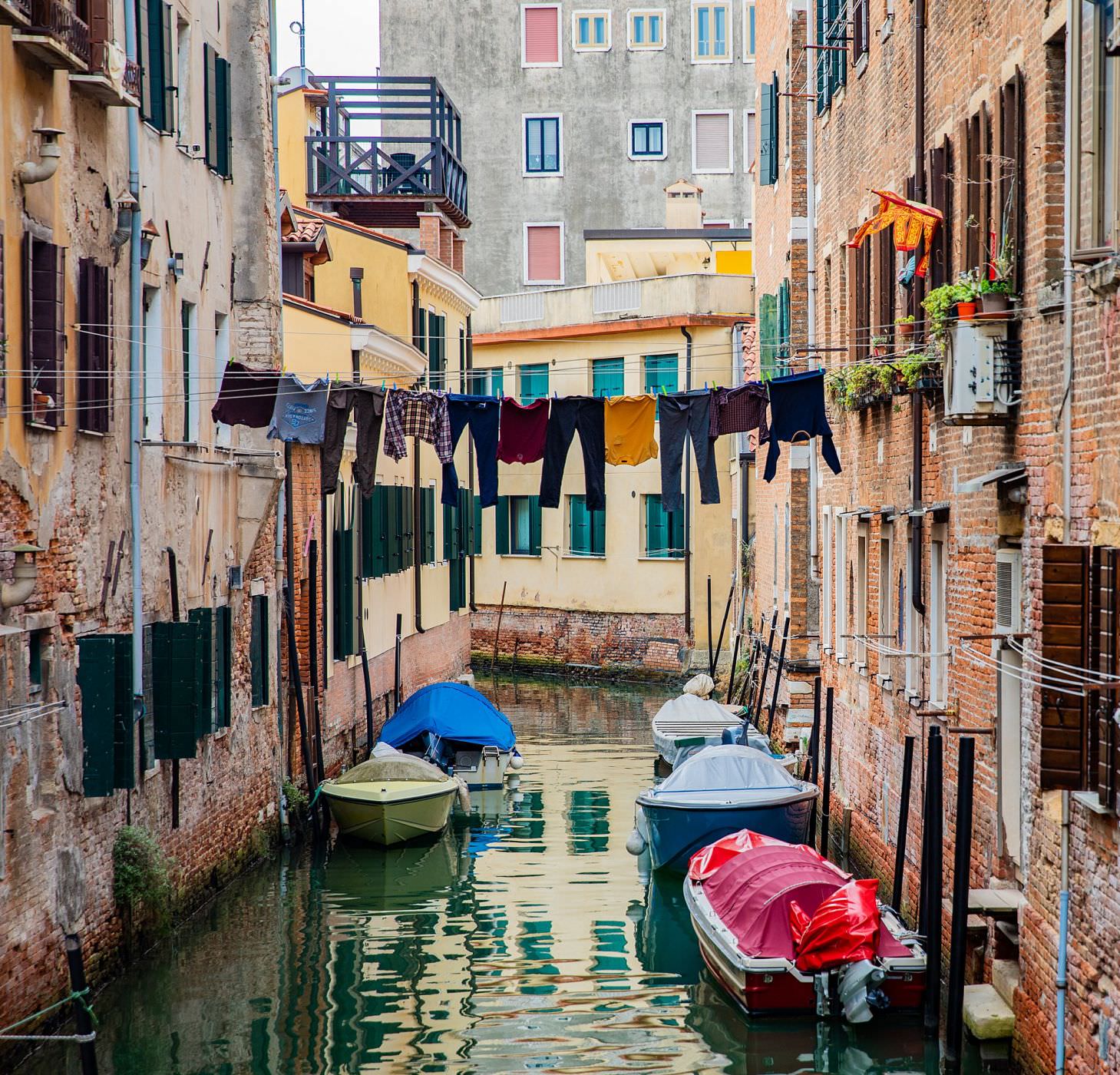 The Canneregio area to the North of the island is a place less visited by the masses of tourists that descend on Venice throughout the year and a great place for us to explore the maze of streets and canal networks, seeking out shots of typical life in Venezia. These shots were mostly taken hand held, with an aim of capturing the essence of the place quickly and without the restrictions of tripods. Although my favourite shots are generally landscape images that include great light, filter work and slower shutter speeds, I always enjoy the freedom and the challenge that street photography can bring. There is so much going on in Venice and the absence of roads/traffic makes this a wonderful place to simply explore the area with your camera. We walked for most of the day, stopping to shoot whatever captured our imaginations. When working in a new place your senses are heightened and your eyes see beauty in the unfamiliar. The entire day was spent searching out colour and vibrancy to add strength to our compositions. With heavy cloud settling over the lagoons, we knew that a sunset wasn't on the cards so we waited for nightfall to shoot the architecture of The Doge's Palace and St Marks Square. This session proved to be one of the most enjoyable as Venice really closes down after dark, with many people making thier way off the island well before 10pm. We felt like we had the place to ourselves, particularly around the Rialto Bridge which we had to pass on our way back to the hotel. The streets were largely empty, giving us clear shots that simply would not be possible during waking hours. By 1am, I was ready for bed but feeling satisfied that we had a great selection of images safely stored on our memory cards.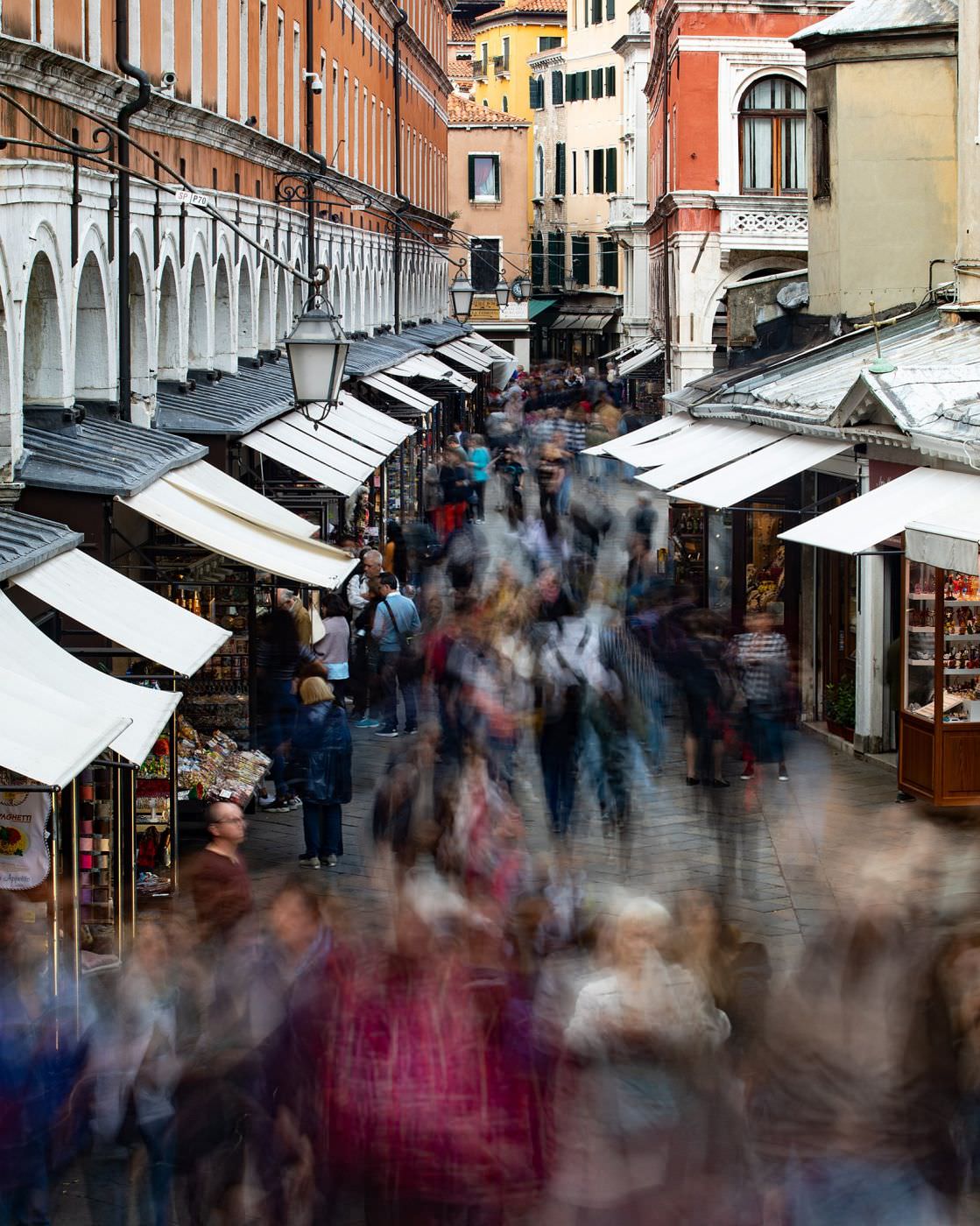 After a very late night, we checked the weather app (heavy cloud forecast for the morning) and elected to skip sunrise in favour of refreshing our bodies with much needed sleep. We'd walked for miles the previous day and had been shooting for many hours. After breakfast we made our way to The T Fondaco dei Tedeschi for rooftop views high above the city. It's a grand department store by the Rialto Bridge with views along the Grand Canal. It's a great location to shoot from a height, often overlooked by tourists who head straight to the Rialto Bridge which is just outside. As we were in the area, this was a good opportunity to shoot slow shutter movement shots capturing the hustle and bustle of the Rialto area. We used the vast amount of people passing by to our advantage, making use of our tripods, rendering stable structures perfectly still while the movement of the hoards gave an expression of how it felt to be right in the middle of the action during the peak time of day. We didnt hang around for too long before slowly making our way towards the Acqua Alta Book Shop, a quirky feature of Venice that is great for a photograph or two. The building is crammed full with books and had a full length Gondola running through the centre of the shop. The owners are quite happy to allow photography too. With Joe's trusty navigational skills, we made for Palazzo Contarini del Bovolo, a stunning structure that has an exterior spiral staircase, leading up to wonderful views to St Marks and beyond. After a hefty hike to the very top, time was spent seeking out rooftop compositions.
As nightfall began to draw near, we moved back toward Cannaregio to try to catch a Sunset. On this occasion, we were treated to much better light, although it wasn't all plain sailing. As the light was dipping, we could see the sky developing nicely toward the North West. Trying to find a composition proved difficult, with canals seeming leading everywhere but towards the best part of the sky! A useful tip for aspiring photographers is not to be too hasty in selecting your location. It can be hard to keep searching when the light is changing and you are desperate to catch something. But in my experience, spending time finding the right location is much more productive than settling for a less than satisfactory spot. I found the perfect canal with only a few moments to spare and I'm confident that any other location in this immediate area wouldn't of given as good a result.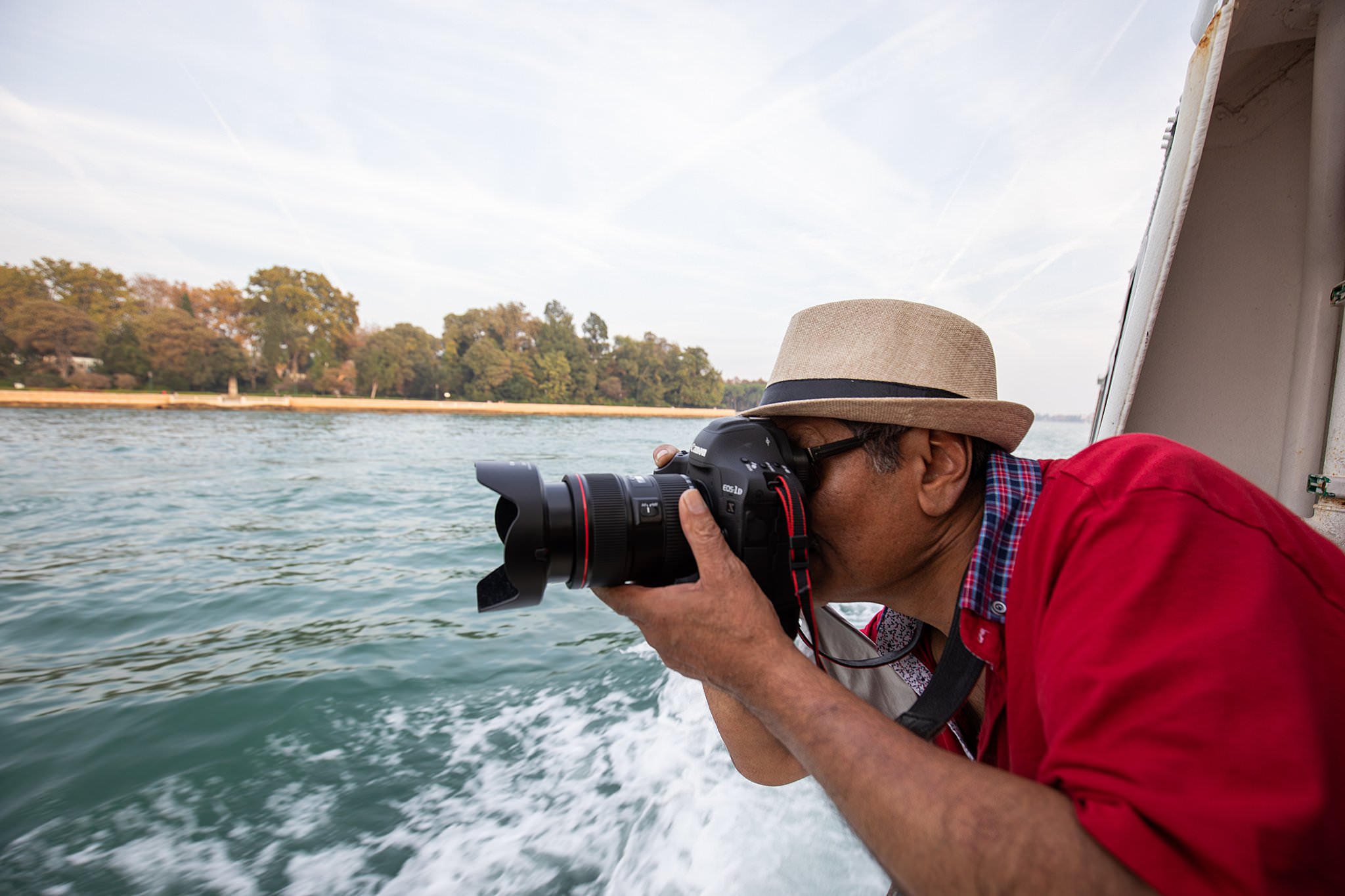 The following morning we once again tried our luck at the Accademia Bridge. The light proved to be better on this occasion, still not perfect but it seldom is! We settled for what we had been given and were now more than happy that we had a great shot of this classic location. Next stop, breakfast and a boat trip to Burano.
Burano is a small island around 40 minutes away from Venice. It is famed for it's colourful streets with homeowners painting their properties in vibrant colours. For middle of the day pictures, it's hard to beat, with plenty to keep you occupied. There are pictures to be made at every turn and an ambience on the island that is a welcome break from the busy waterways and streets of it's bigger neighbour Venice. With travel time to and from the island (plus a break for a delicious meal), the group enjoyed a relaxed day making images at a slower pace. We used the vibrancy to create colourful photographs of Burano before catching the boat back for a final crack at St Marks Basin at sunset.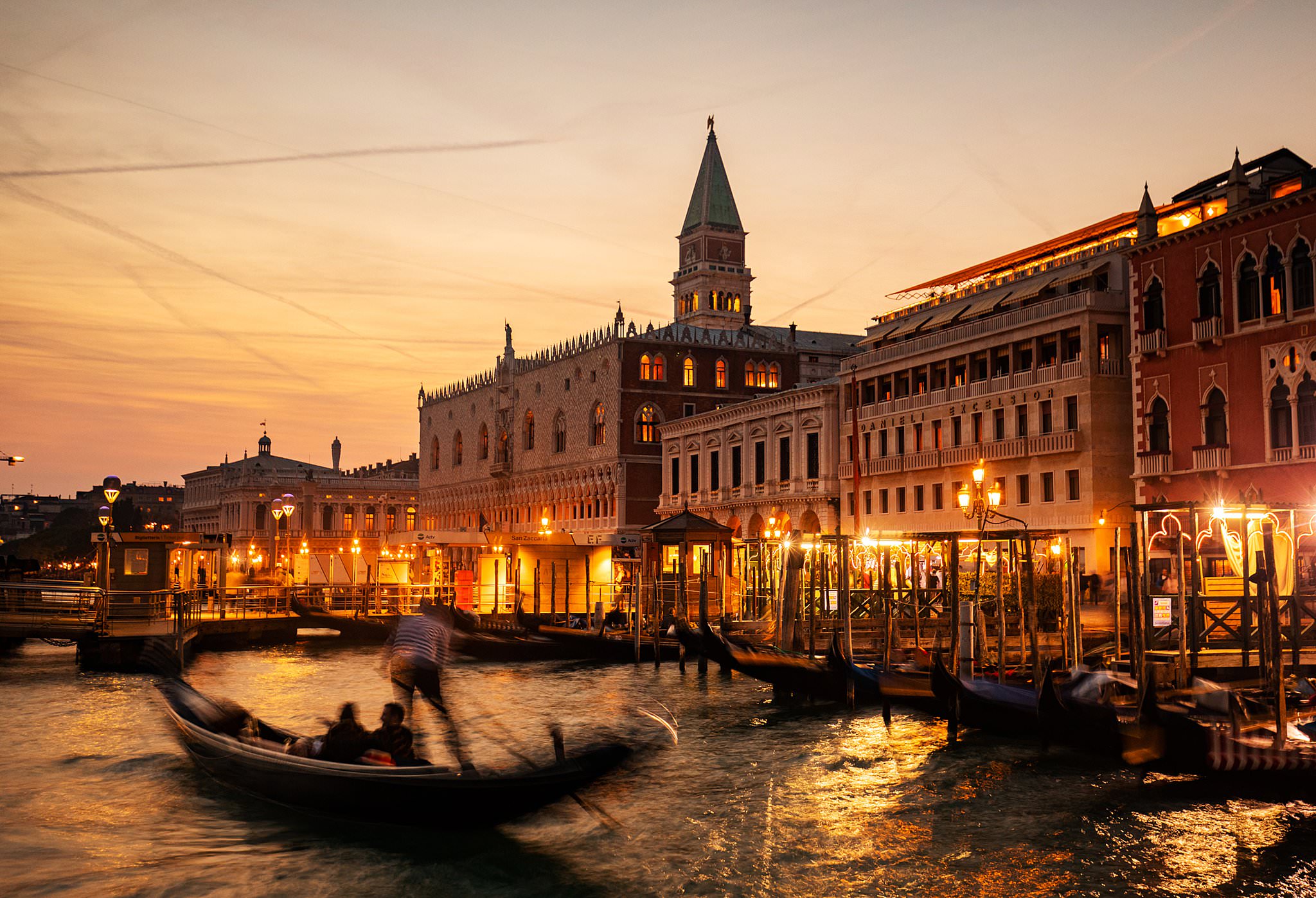 As we were docking at St Marks, the sun was setting and it was looking good for our final session to offer the best quality of light during our entire stay. With the Moon in view too, this was surely our opportunity to shoot the portfolio worthy image that we had travelled all this way for. The light was looking good, the sky filled with muted colours and the sun casting on the famous San Giorgio Maggiore directly opposite our viewpoint. Looking over our shoulder to the square, we could see a much more intensive light building over St Marks, perhaps we could shoot at least two great compositions before the light faded. We set up with tripods and filters and were immeditaley surrounded by tourists wanting a piece of the action on their camera phones! It was quite a funny moment to be totally honest, and I hope they managed to bag some great shots too.
Two of my personal favourite shots came right at the very end of our time in Venice. It was this final sunset that really elevated the trip from a photographic point of view, with everyone coming away with something to be proud of. As the light darkened, we used the blue hour to shoot the movement of the Gondoliers making their way along the water backed by the imposing Santa Maria della Salute, a great way to end an excellent trip.
Venice is a wonderful place, not only for photography but as a location that everyone should visit at least once. It's a city that can capture your heart in a flash, with it's deeply romantic ambience you can't help but fall in love. Yes, there are lots of tourists and it's very busy during the day, but there are so many streets and areas away from the tourist hotspots to explore. The entire place is full of charm and neighbouring Burano is a joy. I'll certainly be looking forward to my third visit in the near future.
Thank you to Joe, Christine, Bernard, Denise, Rashmi, Balbir and Bhupider for making this such an enjoyable experience.